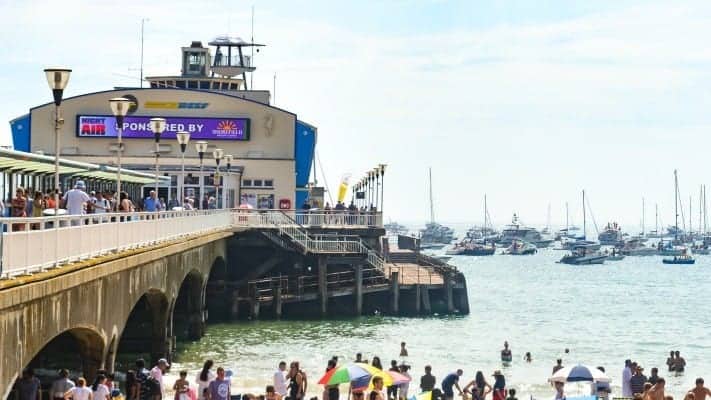 Bournemouth in Winter? – 5 Reasons to Visit Off Season
Bournemouth is a great place to visit in the winter for a number of reasons. Hotel rooms are easier to come by and are cheaper. Activities like the PierZip Line, or tours of the Jurassic Coastline are also more affordable with less waiting time in queues. Anyway let's get into it, Bournemouth in Winter and 5 Top Reasons to go in the Off Season.
Okay, getting a sun tan may be difficult but there's still a lot to do.
Not to mention that the weather is warmer than the rest of the UK (Note warmer, disclaimer – you may  still need your coat).
Here are our top 5 things to do In Bournemouth:
Zip line across the sea
Yes, that's right – you can zip line (250 metres)  above the sea at Bournemouth Pier!
PierZip is located on Bournemouth Pier, which you will need to pay a small fee (£1.50) to enter. You're greeted by the staff who'll instantly put at ease (great if you're a bit nervous!).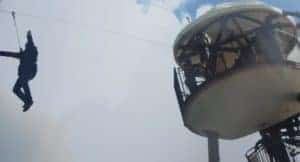 Costs: The PierZip costs £15 for a single ride, £26 for a dual ride (two persons) during the winter (October – March), compared with £18 for a single ride and £32 for a dual ride in the summer.
As mentioned above as well, the queues are minimal in the winter.
The Experience
On entering PierZip, you're suited up with all the gear, strapped in pretty tight we might add and directed straight to the staircase tower located at the end of the Pier. Its about 60ft high.
 The Zip Line is about 250 metres long and stretches out to the beach.
Climbing up the staircase is quite steep and you may have to queue for while depending how busy it is. So a heads up if you're scared of heights. 
Once at the top, you'll be greeted by more staff who'll take your picture (say cheese!) securely fasten you to the zip line and go through the safety talk. 
1 minute later and you'll be stepping off the platform and zip lining all the way down to the beach. The most exhilarating experience and although over very quickly, you'll get a great view! 
The photos cost £6 for two, £15 for three.
Ride on the Observation Wheel 
If you're not great with jumping off into the air, a great alternative to get to see the view is going onto the Observation Wheel.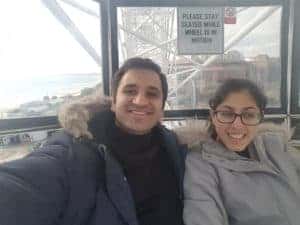 Cost: £6 per adult where the ride lasts about 10 minutes.
We were fortunate to have the wheel to ourselves – no queuing and an extra lap around the wheel! 
The Beach is STILL great in the Winter, not to mention the fish and chips. 
You can't go to the beach without grabbing fish and chips on the beach. With plenty of places to choose from, grab some food and find a nice spot on the bench or on the sand to chow down.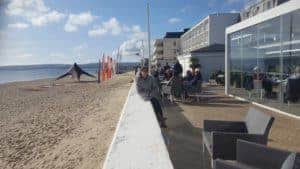 The beach itself is great for walks, sun rises, swimming (if you can bear the cold) even in the winter.
Visit nearby towns such as Westbourne and Poole
Bournemouth is surrounded by several towns and villages. Two of which we managed to visit while in Bournemouth was Poole and Westbourne. 
Poole, situated next door to Bournemouth boasts magnificent views across the sea.
We stayed along Sandbanks Hotel – known for millionaire's row (gorgeous houses!) and apparently the fourth most expensive area to buy a house in the world.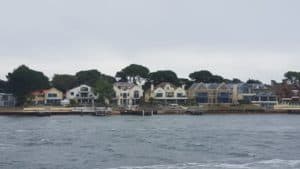 A number of celebrities own houses in Sandbanks, including Harry Redknapp and Elton John, so you may even bump into someone famous.
Westbourne, a village, practically within Bournemouth is a great place to visit. We stopped by on our way home.
Why go at Westbourne? It's building a reputation of becoming a place for foodies. For a village, it had a fantastic range of places to eat whatever you're in the mood for. 
We decided to eat at Circo Lounge. This was a trendy cafe in the heart of the village. It looks small from the outside, but it's roomy inside.
They had a great selection of food, family favorites including macaroni and cheese and chicken burgers, reasonably priced and the service was great!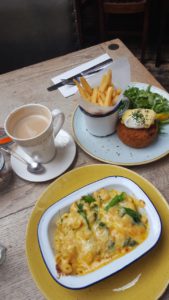 Take a cruise along the Jurassic coastline
Being on the south coast, there was no way we were going to head back home without seeing the Jurassic coastline.
Although this stretches for miles and as we were short of time, a great way to see this was through the city cruise.We spent just over 2 hours on a boat with a guided detailed tour on route which was fascinating. 
Cost: 15 per adult, we thought this was good value for money. 
Even if you're not that interested in the facts, it's a relaxing boat ride seeing the beautiful scenery. 
Especially going off peak season, we managed to take advantage of the great views, given that there were fewer people and managed to take great photos from all angles.

Our Top Tips
Great to visit in winter/autumn as well as summer if the weather is nice as the area is definitely quieter.
Zip lining is cheaper to do from October on-wards. You can also save money if there's two of you by purchasing a dual ticket or a family ticket if you have kids.
Take a car. Although, there is public transport, it's just easier to get around by car and especially if you have limited time in the area, you can cover more ground. 
Where to Stay
We stayed in the Sandbanks Hotel located on the beach front with views out to the sea. The hotel itself was comfortable and included an indoor swimming pool, sauna and a fitness room. 
It's a family friendly hotel, with ample parking and the service was great. 
So in Summary…
Dorset is a beautiful region and there's so much to see and do. If you have more than a weekend here there's definitely enough to do to stretch out your holiday to a week. 
If you have any areas in Dorset you'd recommend visiting, please share below, we would love to hear from you! Alternatively if you're thinking of visting other areas in the UK check out our blogs on Edinburgh and cycling in Lake District, where we cover local areas too!