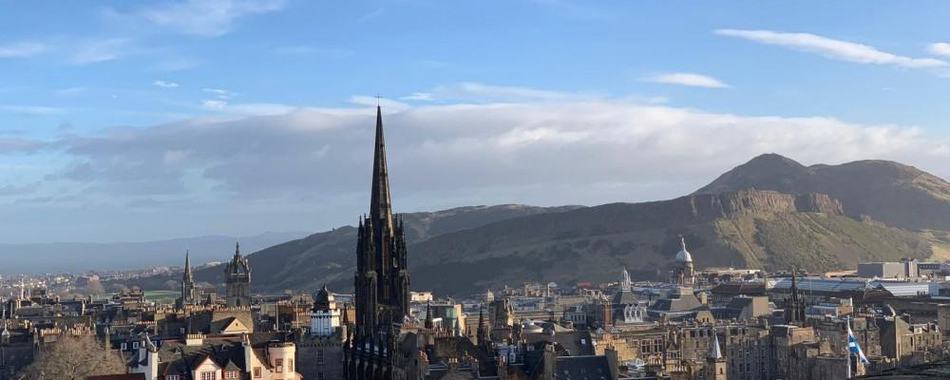 Edinburgh Travel Guide – Things to See, Do & Tips to Save on the way
Edinburgh, what a great place! There's plenty do, see, eat and drink. Whether you're travelling on your own, as a couple or with the family, this city will not disappoint. What's more, you can see all the city has to offer without breaking the bank. Without further due lets get into our Edinburgh Travel Guide.
Where to stay
Try to stay as close to the centre as possible, buses and trams are super efficient and to be honest finding parking in the centre is a bit of a problem. Edinburgh is really easy to get around and if you stay in an AirBnB you can bag a great deal. We paid £200 for a couple of nights in Bruntsfield Place, and it slept five of us. Included two large double rooms and a sofa bed. We had an excellent time with our hosts and would recommend their accommodation. See our review and link here!
Local travel around the city
We decided to go for an all day bus pass. At £4 per person its not bad at all and you will make the most of it. The trams are decent too. Edinburgh does have Ubers as well so if you don't fancy public transport this is always an option for you.
Sight Seeing
The great thing about tourist attractions in Edinburgh is that there's a lot concentrated in same area of the city. During our short stay we visited Edinburgh Castle, The Scottish Whiskey Distillery, the Royal Mile and the Christmas Markets (obviously the Christmas Markets are dependent on the season).
Edinburgh Castle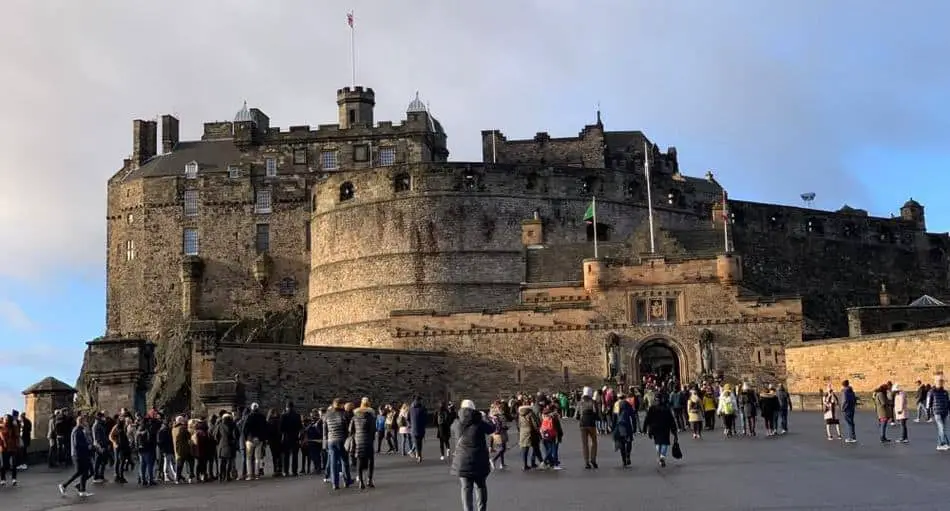 Arriving at the castle gives you a real sense of the history of Scotland. As well as being the site of many famous battles in Scotland the castle itself was inhabited by many famous Scottish monarchs and houses the Scottish Crown Jewels. The costs are £18 per adult. Over 60s have a reduced rate if £15.50 per person. There is a smaller charge for 5-15 year olds. Under fives go for free. This can rack up the costs. For five of us it cost us close to £90 (3 adult tickets and 2 over 60s) however we would recommend it as one of those things you should tick off the list.
The Royal Mile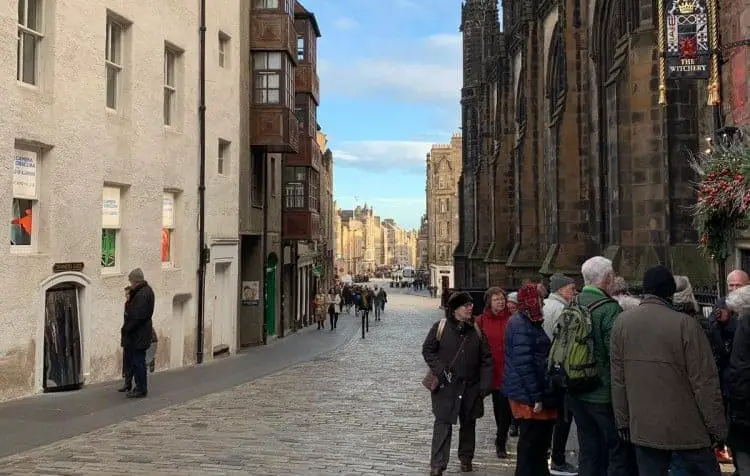 A beautiful cobbled road , it's the site where Monarchs would parade down once crowned King or Queen. Today it's the site of some great little shops where you pick up some tartan, fudge and whiskey.
Christmas Markets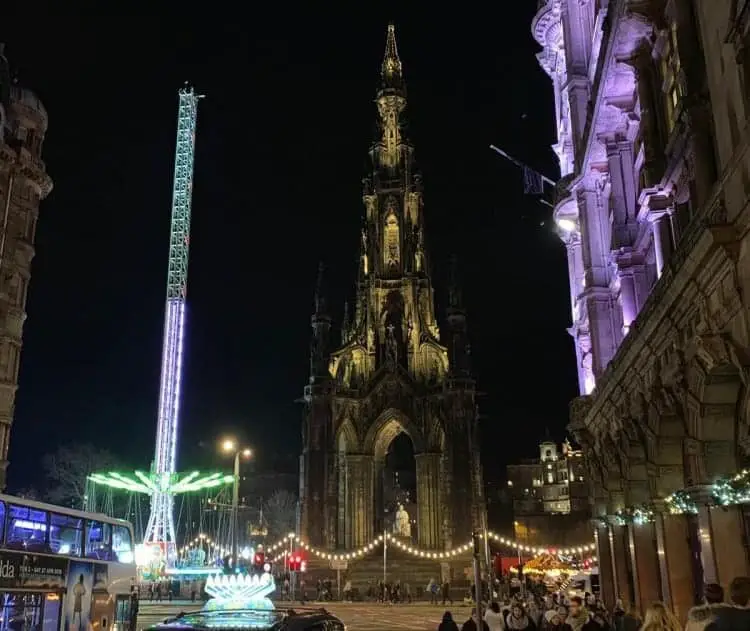 The markets are free to enter and are always good fun. To be honest they're no different to Christmas Markets you see in other cities but are good to wander around in the winter evenings. There's a Santa Village which is great for kids, usual beer stalls and so forth but well worth a visit.
The Scottish Whiskey Distillery
Having been to many distilleries in the past we decided not to do the tour of the distillery. Costs are around £18 per adult. £15.50 for over 60s. No group discounts. The shop however is still worth a visit. The whiskey's available are some that you don't readily find and they don't break the bank budget.
Food and Drink
When eating out in Edinburgh make sure you pre-book, otherwise you will be disappointed when trying to get a table in your chosen place to eat. Saying that we got lucky on our first night with this lovely restaurant – Cafe Grande, which is less than a five-minute walk from where we stayed. Good beer, reasonably priced we ended up going for dinner one night and breakfast the next morning.
We went to Edinburgh as part of a birthday treat so we decided to book somewhere nice. We found a lovely place called Divino Enoteca for lunch. The lunch menu offering two courses for £20 per person was perfect for what we wanted. The romantic decor coupled with the lively atmosphere was great for what we wanted.
Finally, another lovely bar we visited for breakfast was Montpeliers. It's a bustling bar/restaurant at night. Probably not great with a family but a nice place to go to as a couple. They had a varied menu and and with friendly staff and delicious food, it was a great place to have breakfast here before commencing the long journey back to the Midlands!
We hope you've enjoyed this review. If you've been to Edinburgh please let us know what you thought and if you have any recommendations.