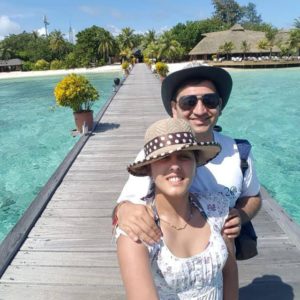 First of all.. a warm welcome, a MASSIVE thank you for taking the time to visit our blog, it means a lot to us and we really appreciate it.
I'm Bhavik, and  the lovely lady in the photo is my wife :).
How Binge Travelling Began….
We have 9-5 jobs, and have the usual money woes (Mortgage, bills, blah blah blah). It's not always easy to get away and taking account our annual leave our free time is precious. We think everyone should be getting the best holiday deal possible for their buck and the best way to do that is by having the most relevant information available to you…so voila! Binge Travelling was born.
Also its a great way to track all the trips we're going on too. We hope to make this a full time thing one day, but hey take each day as it comes. If any of you are doing anything similar or different, let us know. Contact details below. We'd love to hear from you 🙂
A little more about us
We're pretty regular folks that caught the travel bug a little while ago. We've scoured the internet over the last few years trying to get great travel deals for ourselves, friends, families and like to think we've got pretty good at it. We like to think we budget well too and try to maximise the amount we can go on breaks through savvy use of credit cards etc too.  Our goal is to benefit everyone so whether you're fellow bloggers or just looking to get more information, we hope we can help!
Catch you guys soon!
The Binge Travellers
Get in touch with us at support@bingetravelling.com