Lake Windermere is set in the beautiful countryside in the Lake District, which boasts magnificent views.
We decided to check it out after some recommendations on a weekend away and we weren't disappointed!
There's so much to do here, whether you're looking for a relaxing break or exploring the area by cycling, going for a drive through the sweeping country roads, hiking or sailing, there's something to suit everyone.
And although being in England and you can never predict the weather, we were fortunate to have the best experience only made better by the sunny weather!
If you're looking for a UK break away, we would definitely recommend this place.
The Hotel
We stayed at Sawrey House Hotel & Restaurant, in Near Sawrey. A charming bed & breakfast situated in picturesque countryside. Rooms were comfortable and had character.
We visited in May 2019. Prices were not cheap but the quality was there. The cost for a double room at the time including breakfast was £129, but the breakfast was good!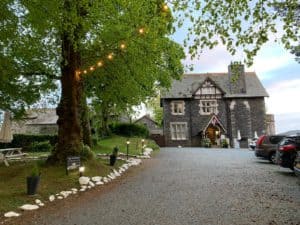 Truly set in beautiful landscape and we enjoyed eating breakfast, lunch or dinner on the terrace overlooking countryside. The staff were very friendly and made us feel so welcome.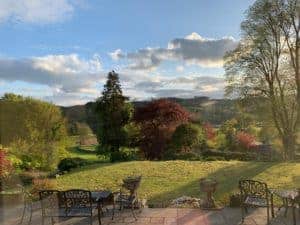 The Cycling
We love cycling, therefore we spent most of our time on various trails throughout Grizedale Forest.
There are trails suitable for all ages and family friendly. Visit the bike shop at the visitor centre to pick up and map where the staff will help you out with advice and tips. 
Our best trail we went on was The North Face Trail stretching 16 km – this was a challenging route and was technically demanding in some places including rocky sections, drop offs and even a few little cheeky jumps, but totally worth it.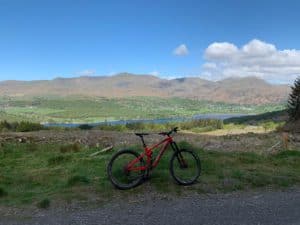 After all that climbing the descent down was well worth the effort up, with the amazing views you get off Coniston Lake and the surrounding Cumbrian countryside.
If you're into your cycling like we are, we would definitely recommend this trail.  Check out this video taken with our Go-Pro, which we'd totally recommend getting by the way.
There were also walking trails passing lakes we also enjoyed, which are easy to follow by following the way marked poles.
These range from 45 minute walk to 5 hour walks with everything in between.
It was great to get back to nature and enjoy the fresh air! The visitor centre had great facilities including cafe, toilets, children activities and even GoApe is there if you fancy even more of an adrenaline rush.
Local Villages
Ambleside
Ambleside, a small town in the Lake District,  and has now become a major tourist resort with shops, restaurants, cinema and a large selection of places to stay.
It is very popular with walkers, climbers and cyclists and is one of the best bases for exploring the Lake District.
Things to do in Amleside
Go see a waterfall
A short walk from the centre of the village leads to an awesome waterfall called Stock Ghyll Force.  
Roughly 70ft in height it's definitely something to check out if you're in the area.
In spring the area under the trees is a carpet of daffodils. Once there were 12 watermills driven by the power of Stock Ghyll and other local becks.
Clay shooting, Archery and Boat rides
A short ferry ride from Waterhead is Brockhole, the Lake District National Park Visitor Centre.
Set in 30 acres of gardens it offers boat hire, bike hire, tree top trek, laser clay shooting and archery as well as special family events.
Facilities are excellent, including plenty of places to eat and drink. Accessibility is very good. 
Coniston
A little village that would also serve as a good base if you are looking to visit the lake district.  It has a small selection of shops as well as places to eat too so worth checking out.
With a history of copper mining,  and slate quarrying, there's an extra element of history here too as well as walking and climbing routes for anyone interested. To find out more click here 
Windermere
When you hear about the Lake District you always here about Lake Windermere, which is now world famous.
More than ten miles in length, Windermere is England's largest lake that offers a wide variety of summer activities including cruises, fishing, boating, sailing and scuba diving.
Without question Lake Windermere is the most beautiful of all the Lakes. You will enjoy it whether a one day visit or preferably a stay at one of the hotels which surround the Lake.
One of the most interesting things you can do is a Steamship trip which is not only enjoyable in itself but will enable you to see and enjoy the Lake properly.
Frequently Asked Questions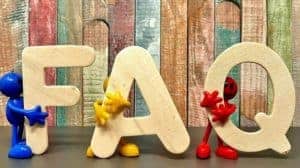 What's the nearest train station to the Lake District?
The nearest train station to the Lake District is Oxenholme Rail Station, which serves as a good base to explore Kendal and the surrounding areas.
However, depending on which part of the Lake District you wish to visit, you can also get trains to Windermere, Carlisle, Barrow, Kendal and Penrith.
When should I visit the Lake District?
The busiest season is between June and August, when prices rocket, car-parks are packed and traffic jams are frequent.
Better to visit in the spring/early summer: in April and May, when the weather is generally settled and sunny, or in September and October, when the woodlands blaze with autumnal colour.
What are the main towns in the Lake District?
The Lake District is one of the most highly populated national parks.
There are, however, only a handful of major settlements within this mountainous area, the towns of Keswick, Windermere, Ambleside, and Bowness-on-Windermere being the four largest.
In Summary…
We hope you enjoyed the article. Our trip this time was very cycling specific, but well be sure to go again on another family holiday given that there s so much to do.
Hotels in the summer are not cheap so if you are planning on getting a deal, book early or aim for April/May to avoid overpaying.
Have you been to this part of the UK? Share your experiences below, we'd love to hear about them.