The Hero Go Pro Action Camera in case you aren't familiar with it, is the leading Action Camera of it's kind. When people think of Action Cameras they generally think  of the Hero Go Pro. 
It's a bit like thinking of the Dyson Vacuum cleaner when you're talking about vacuum cleaners. 
In other words they are THE trusted brand. In this review we're going to look at the Hero Go Pro 7 Black, what we like, what we don't like and our final verdict. 
What is the Go Pro 7 Hero Black?
As mentioned above the Go Pro Hero 7 Black is an action camera, the latest version in the Hero Go Pro Camera series, designed to used to capture the moment whilst you're in it. 
It's usually used to record extreme sports. Common examples include cycling, hiking or swimming. 
I've actually seen the time lapse video function used for capturing the build of a Marquee of a wedding, or guests arriving to a party which is pretty cool too.
We like recording our adventurous moments (Just so we can say we did it when we're old) , and  we have used the Go Pro for swimming as well as cycling. Here's a video from a cycling trip we recently went on in the UK, taken with the Go Pro. Check out our  cycling in the Lake District.
What we like about the Go Pro Hero 7 Black
If you're familiar with the Go Pro brand or own an older model of the Hero Go Pro, you'll have a pretty good idea about what was good and what was not. The Go Pro 7 Hero Black, definitely seems to be a step up from it's predecessors such as the Hero 4, and 6 in some aspects for sure. 
Generally as a camera, we love that it is compact, as well as the accessory options that make it fit for purpose in places where, lets face it, the camera has no business being in.
8 Great Features of the Go Pro 7 Black
1. The Zoom in Zoom Out Functionality –  This feature was limited on the Hero 4 but it definitely has its uses. One point to note for videos, you have to decide how much you want to magnify before you take a video which is slightly annoying, but still good that you have the option for sure.
2. Hypersmooth Feature – Ability to stabilize footage, this is a game changer in our opinion as the the nature of some sports is that we move around a lot, so having  something to compensate for the bumpiness shall we say it's super cool.
3. Time Warp Feature – Time lapse feature takes a video and again looks super smooth, better than before.
4. Countdown Photo Timer – We love this function. So you can set a timer between 3-10 seconds before you take a photo and it gives you a countdown on the front screen which is a  feature previously unavailable. This is obviously great when capturing selfies, or for family photos.
5. Portrait Style Photos/Timed Clips – You can take portrait style photos and videos for specific amounts of time e.g. 30 secs, which is useful if you're looking to Instagram or whatever.
6. Voice Control – This feature has it's pros and its cons – but it can be toggled off and on. Essentially, you can command your Go Pro to take a photo, shoot a video, turn on and off with your voice. 
This is a great feature if you're travelling on your own, or if you've got that camera strapped to you, or if you're short of hands in any way really.
7. Ability to Live Stream – via pairing to your phone or directly. So if you want to broadcast to online platforms, you can do it.
8. A Better Interface – The display is definitely more pleasing to the eye and easier to use. Previous Go Pros felt a little clunkier than this one.
What we don't like about the Go Pro Hero 7 Black
1. The battery life of the Go Pro is pretty rubbish, always has been. Lasting between 1-1.5 hours it's not ideal. To be honest it's probably worth getting a dual battery charger, if you're going to buy a Go Pro. 
The charger comes with an additional battery and if you have a power bank you can just leave it charging in your bag whilst you're on the go.
2. The voice control is a bit too sensitive to other sounds besides your own which can lead to it taking photos/videos that you did not intend to record which can be a bit annoying.
3. It's only waterproof up to 10 meters – If you are scuba diving or something can be an issue, saying that previous versions of the Go Pro required a protective casing.
4. Requires a memory card which is an additional expense – We'd recommend getting a 64 GB memory card just to make sure you don't run out of space.
5. The Zoom in and Zoom out feature – for videos has to be applied before you take it. You can't change it once you start recording which is also irritating.
6. The need for accessories – The camera itself doesn't really come with enough. There are lots of useful add-ons that you need to buy to take full advantage of the product.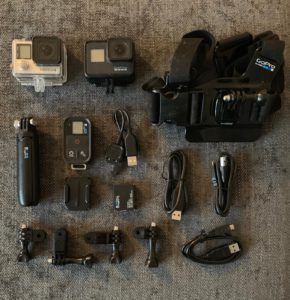 Our Recommendation
We actually think this is the best Go Pro Hero 7 Black so far, mainly because it seems like Go Pro have addressed issues from the previous Go Pros.
Features like the countdown Photo timer are super useful, the hypersmooth feature as well as the better user interface really gives you the feeling that Go Pro have thought about their target audience this time.
There are of course still issues such as the bad battery life, issues with the voice control as well as the need for accessories in order to tailor the Go Pro to your needs. 
That said so far, the accesories you have for previous versions of the Go Pro can be used on the newer ones so that's something I guess.
We really hope you've enjoyed our review of the Go Pro. If you have any opinions or thoughts please let us know.