The Tradition of 'High Tea' or 'Low Tea' is a known British tradition. But why is one high and the other low? Are there any other tea traditions we should know about? We were wondering this too, so we did a bit of research and there are more differences than you think. Anyway, let's get into it…
So what is the difference between 'High Tea' and 'Low Tea' anyway?
The Breakdown
High Tea
Low Tea or 'Afternoon Tea'
The Food
Savories e.g finger sandwiches
Snacks e.g tarts or quiche
Sweets e.g cakes, biscuits, scones
Snacks: tea cakes,
scones
with clotted cream
and Jam
The Drink
Tea, Prosecco or Champagne
Tea (preferably Ceylon or Indian Tea)
Meal Type
Light lunch or Brunch
Snack between meals (usually lunch and dinner)
But there's more to it than that. High Tea and Afternoon Tea are often advertised as the same thing. There are more types of tea activities you can do! (probably commercial creations). Let's get into it anyway.
Why is one called 'High Tea' and the other 'Low'?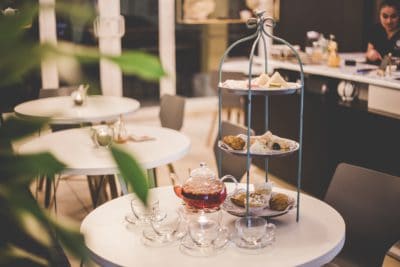 So there's a couple of theories here.
One theory (the popular one) is that High Tea is actually dinner. 'Working-class people' i.e anyone that's not part of the Royal Family ate at the dinner table (a high table) and referred to it as their tea.
This then evolved to what we now know as High Tea. Although it doesn't really explain where the 'tea' in high tea came from.
Another theory (the more likely one) is that the rich folk in the UK, who were already accustomed to Low Tea (Afternoon Tea), opted to have some savory snacks such as sandwiches and cakes with it.
The 'High' Tea name then came about as an elevated version of the traditional Low Tea (Afternoon Tea).
For us, the second theory makes more sense, but in reality either could be true.
Why do people confuse High Tea with Afternoon tea if they're different?
It's not anyone's fault. There is generally a blurred line between the two. Before we looked into this, we had no idea that the term 'Low Tea' even existed!
Many hotels and restaurants advertise High Tea as Afternoon Tea and vice versa. The reasoning will probably come down to their client's perception of High Tea or Afternoon Tea. The customer is always right I guess.
It's therefore up to you to judge what you're having. So take a good look at the menu before you order your Afternoon or High Tea.
Where's the best place to go for High Tea or Afternoon Tea in the UK?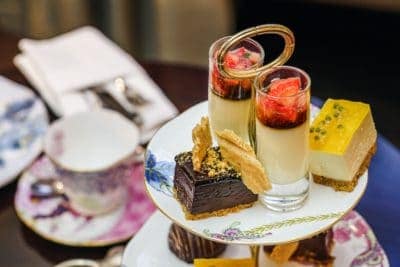 Now that's a question. Generally, when deciding where to go for High Tea, it is always best to look up the place in question on Trip Advisor before you visit. But we have some places that are known to be excellent – see below.
Just so you know when we were looking into this, we found that all of the hotels we have selected are advertising their 'High Tea' as Afternoon Tea. They are all High Tea in our opinion, just because after all we've learned that's the correct definition for what they're serving.
We've included links to the respective venues websites should you wish to look at there menus.
Anyway, let's find out where the best places are to go for Afternoon 'High' tea in the UK
High Tea – Afternoon Tea Etiquette – How should one conduct one's self?
We found a pretty amusing video that may help you prepare for your Tea event as well as some others below the video. It includes how to stir the tea with a spoon..(as if we don't know how to do that).
Dress code
Although it's considered to be quite posh, the dress code isn't strict for the majority of places that you go to.
For men, smart casual is fine, no need to wear a jacket or anything like that unless specified by the hotel.
For women, it's fine to dress up or dress down. There's no formal attire.
How long should you let your tea brew for?
Well, it depends on how you like it, i.e a strong tea or a weak tea. The general recommendation from tea experts is 3-6 minutes.
Should I put my milk in the tea first?
This comes down to personal preference but just know whether you put the milk in your cup first or the tea, neither is frowned upon.
We generally put the tea in after, just because…we've always done it that way.
How should I eat my scones?
Most people cut the scone in half and top each section with jam and clotted cream or clotted cream and jam.
Apparently though, the proper way to eat scones is to break off small chunks with your hand and top each piece with your jam or butter or whatever you choose to put on to it. This sounds like a bit of crumby thing to do if you ask me though. hehe
How should High Tea or Afternoon Tea be served?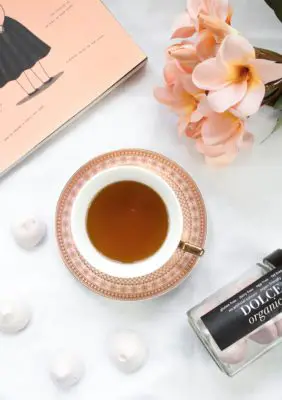 Well if you're going somewhere quite posh, you'd expect to be served a pot of tea with cups and saucers preferably in bone china cups.
Needless to say, you should always be served in cups and saucers. If you're getting served big mugs of tea, get the hell out of there! OK, that would be a bit of an extreme reaction but you get where we're coming from.
A traditional tea usually starts with the tea coming out first, then finger sandwiches and savory treats.
This is usually followed by scones with butter, jam and or cream, then cakes and other desserts.
What Other UK Tea Traditions are there?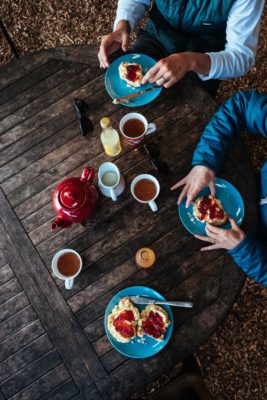 Cream Tea
This is essentially a 'lighter' Afternoon Tea and consists of a combination of scones, clotted cream, and jam.
If you travel to Cornwall or Devon you'll see Cornish or Devon 'Cream Tea' advertised more than Afternoon or High Tea.
There is a subtle difference between Cornish and Devonshire Cream Tea whilst we're on the subject, and it all comes down to how they eat their scones.
The Devonian, or Devonshire, method is to split the scone in two, cover each half with clotted cream, and then add strawberry jam on top. … With the Cornish method, the warm 'bread split' or a 'scone' is first split in two, then spread with strawberry jam, and finally topped with a spoonful of clotted cream.

Wikipedia. Link to full article
Which one is better? We've tried both, my wife likes the 'Devonshire' method. I don't really mind.
I do prefer a warm scone though – that's one thing I'm particular about.
Light Tea
Ironically, this it's labeled a 'Light Tea' but it has more elements to it than a cream tea.
Its essentially a cream tea plus sweets, such as biscuits (cookies), cake, or pastries, such as individual fruit tarts.
Strawberry Afternoon Tea
Essentially this is an afternoon tea with scones, clotted cream, and strawberries on top or with strawberry cake as well.
Insider tip: The Wimbledon Tennis tournament is a great place to try a Strawberry Afternoon Tea. Also try strawberries and cream there too it's amazing

Here's a link to the official Wimbledon food and drink map
Champagne Tea (Royal Tea)
High Tea served with a glass of champagne. Extravagant hotels including Claridge's, The Ritz, the Dorchester Hotel and the Chesterfield Hotel Mayfair in London serve one or more delectable variations.
So it's not commonly found but it is essentially High Tea, but with Champagne instead of Tea.
The Champagne makes it royal – obviously!
To Wrap Things Up
We really hope you learned something about the British tradition of tea in this article.
Most importantly we hope you're clear on the differences between High Tea and Low Tea (Afternoon Tea). Hopefully, you found the other facts interesting too.
If you do go for an Afternoon Tea where you are – let us know how it was. The question is was it really Afternoon Tea or was it High Tea?