London is a city which is known for some beautiful buildings but weirdly it's probably not known for its number of Skyscrapers. We were wondering why. You would think a city like London would be one of the front runners here, but it's not. 
So, why does London have so few skyscrapers? We've named some of the main reasons why this is below, which we'll get into further:
Strict building regulations 
London is an 'old' city
Strict regulations on Right to Light
What is a Skyscraper?
Definition: A very tall high-rise building usually found within a city. It has to be more than 40 floors and over 150m high. Skyscrapers can actually be further classified according to their height, for example, a Skyscraper more than 300m high is termed a Supertall Skyscraper and at more than 600m tall, a Megatall Skyscraper. Take a look at how London compares to other major cities:
| Major City | Number of Skyscrapers |
| --- | --- |
| Hong Kong | 300+ |
| New York | 200+ |
| Dubai | 148 |
| Shanghai | 126 |
| Chicago | 117 |
Why is London 'behind' in building Skyscrapers compared to other major cities?
Currently, London only has 33 Skyscrapers. In comparison to the list above, they're a long way off catching up to the other cities (not that it's a competition, tell Dubai that!). 
But why is London holding back? It's not like the city is short of money or have they been left behind? 
There must be a plausible reason why London does not have as many Skyscrapers as other major cities. Let's get into it…
1. Strict building regulations
The design and construction of Skyscrapers are essential to meet the building regulations. It is not an understatement to say it's very difficult to get planning approved for Skyscrapers. 
Safety is imperative and the buildings must be able to resist wind, support the weight and be stable enough to withstand earthquakes. As they are habitable, the design needs to ensure people are protected from fire and the building is easy to access. 
Structural design is so important as any failure in this type of building can cause major repercussions. That's why today these scenarios are tested out in the laboratory. How useful!
With UK having a rich history, there are also strict rules in place to protect historical sites. This will always be put ahead of building a modern-day Skyscraper. 
2. London is an 'old' city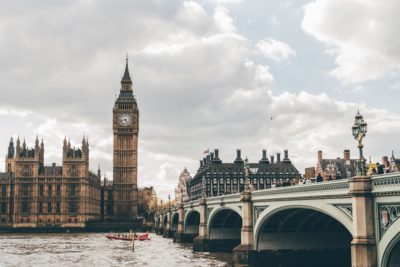 The UK was developing much earlier than today's Skyscrapers cities, such as Hong Kong. 
Tearing down these functional buildings when Skyscraper technology was beginning to emerge and building Skyscrapers just didn't make sense. 
Building standards were first introduced in 1965 in the UK and later brought about the Building Act 1984, bringing in further changes and guidelines. 
Other Skyscraper cities, like New York and other parts of America, were rapidly developing around the time when the technology was emerging hence the much larger number of Skyscrapers can be found in these cities. 
In addition, when Skyscrapers were beginning to appear in different cities, due to London's foundation being clay-based, this didn't offer a suitable foundation for building Skyscrapers safely until the technology developed after the 1960s. At the time, you would have had to dig deeper compared to American cities to get to the bedrock, which is required as the foundation to start constructing such buildings. 
3. Strict regulations on Right to Light
There is an "easement" called the Right to Light in the UK which is legislation that allows the owner of a building with windows to maintain natural light, therefore they can prevent building construction that could affect their access to natural light.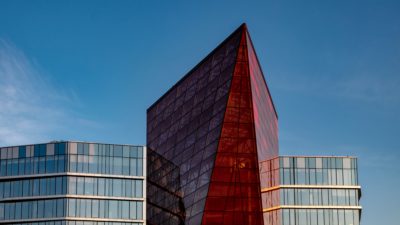 Other considerations, such as the character of the building have to be considered. Constructing huge buildings can have a knock-on effect on other buildings' natural light as well as traffic and air quality. 
All of these factors need to be considered.
When was the first Skyscraper in the UK built?
The NatWest Tower, which is now known as Tower 42 was the first Skyscraper, completed in 1980 and opened in London in 1981. 
It stands at 183 meters and is 42 storeys high, which at the time was the UK's tallest building and only succeded by One Canada Square in 1990, standing at 236 meters. 
Tower 42 now consists of office space with restaurants on the 24th and 42nd floors and is no longer owned by NatWest. It's now owned by Nathan Krish, who bought it for £282.5 million (wow!). It has since been overtaken in height by many other Skyscrapers, such as 22 Bishopsgate (278m), Heron Tower (230m) and The Scapel (190m).
What are the most recognizable Skyscrapers in London today?
| Building | Number of Storeys | Height (Meters) | Opened | Location in London |
| --- | --- | --- | --- | --- |
| The Shard | 95 | 310 | 2013 | London Bridge |
| The Walkie-Talkie | 38 | 160 | 2015 | 20 Fenchurch Street |
| The Gherkin |  41 | 180 | 2004 |  30 St Mary Axe |
| Heron Tower | 46 | 230 | 2011 | 110 Bishopsgate |
| One Canada Square | 50 | 235 | 1991 | Canary Wharf |
| The Cheesegrater | 48 | 225 | 2014 | 112 Leadenhall Street |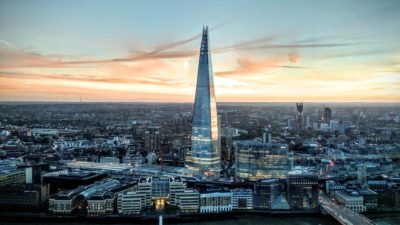 What's in the pipeline for future Skyscrapers in London?
There are many proposed applications for the construction of Skyscrapers in London at the moment. Whether or not they will be approved for construction is another question. However, the tallest top 10 in the running are as follows:
| London Location | Height (Meters) |
| --- | --- |
| 1 Undershaft | 290 |
| 100 Leadhall Street | 247 |
| 4 Portal Way, South Tower | 237 |
| 1 Lansdowne Road East Tower | 236 |
| Spire London | 235 |
| Harcourt Tower | 192 |
| Vauxhall Cross, South Tower | 186 |
| 20 Charter Street | 185 |
| 8 Blackfriars Road Residential Tower | 179 |
| Ruby Triangle Tower B | 168 |
Source: Skyscraper Center
So even with the above Skyscrapers potentially being built over the next few years, it seems The Shard will retain its position as the tallest Skyscraper in London standing tall at an impressive 310m and still is the only Skyscraper classed officially as 'Supertall Skyscraper', in not only London but the UK.
 No other Skyscrapers seem to be reaching this height, although if 1 Undershaft gets built, this will move into second place. 
Which Skyscrapers give the best Panoramic Views in London?
Skyscraper
Price
Restaurants & Bars
Floors
The Shard
Starting from £25 per person
Aqua Shard
Oblix
Gong
Hutong
Bar 31
Ting
Gong
68-72
Heron Tower
Free
Duck & Waffle
Sushi Samba
38-40
The Walkie-Talkie (The Sky Garden)
Free
Fenchurch Restaurant
Darwin Brasserie
Fenchurch Terrace
Sky Pod Bar
City Garden Bar
35-37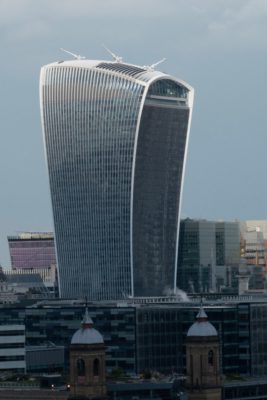 Is there any need for more Skyscrapers in London?
Arguably, London already has some of the most iconic buildings in the world. 
Why is the height of a building so important?
The Walkie Talkie – Not only is it very good looking, but it also houses the Sky Garden at the higher levels giving a panoramic view of the city. 
The Gherkin – Granted it's not tall, but it's certainly different and unrivaled in terms of its shape and structure.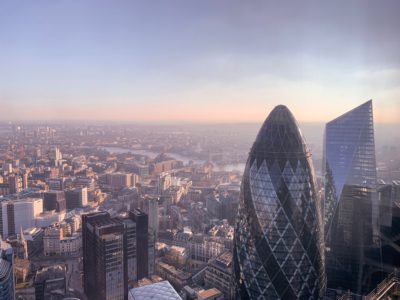 There are other great quirky buildings too; namely The Cheesegrater and Tate Modern.
So in summary…
It's looking like the skyline for London will be drastically changing within the next few years. It's not known how many applications will get approved and more importantly completed, but I'm sure some of the above Skyscrapers will be making a statement in the London skyline very soon. 
For sure, this is definitely a topic the UK people will have an opinion on. 
Does London need to catch up with other major cities across the world? Should we be focusing more on preserving London's view with historical sites? 
Wherever you stand, we'd love to know, comment below! Whichever Skyscrapers do get approved, one thing is certain – London's skyline will be changing but is it for the better or the worse?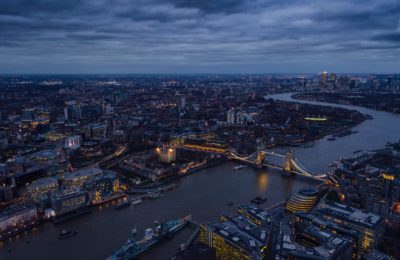 We hope you enjoyed our article. If you're interested in reading more, feel free to check out some of our articles below: