2 days is plenty to see and experience the main sights in Singapore provided you have a rough plan of what you want to do before you get out there. Singapore is a quirky, multicultural place that seems to function better than any country that we've visited before..seriously! Anyway, let's stick with our trip for now.
So what did we do in our 2 days in Singapore?
Time of Day
Day 1
Day 2
Morning
Little India
National Museum of Singapore
Afternoon
Botanical Gardens
China Town
River Cruise
Universal Studios
Evening
Night Safari
Marina Bay Sands
Gardens by the Bay
Singapore is also a great destination to couple with visiting other neighboring countries. We visited Thailand after and you can check out what we got up to here. Not to take anything away from Singapore.
How We Did It – Our 2 Day Singapore Itinerary
Day 1 Singapore – Little India, Botanical Gardens, China Town, River Cruise, Night Safari, Marina Bay Sands
Little India- Where Singapore gets its spice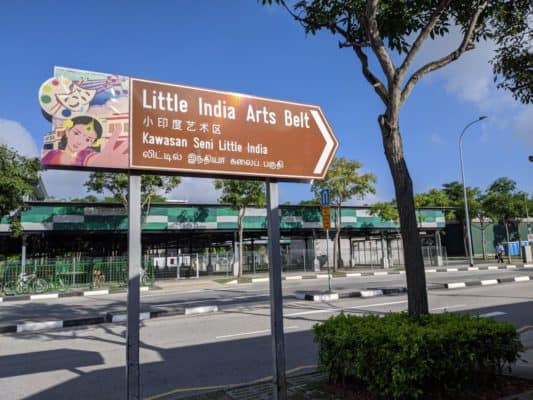 We found a great free walking tour to do around Little India. We did this through Monster Tours, check out what other tours they offer here. It was a great way to see and understand the area on foot.
As part of the tour, you will visit temples, markets and Hawker centers (for food) as well as shopping centers.
On top of that, we got to learn about the interesting history behind Little India and how the area has evolved over time. In comparison to China Town, this area is definitely smaller but still worth a visit.
There are a number of beautiful street art throughout the area, which all have a meaning too. For instance, you'll see a wall with cows, peacocks or a market spray-painted on the sides of a building.
Each spray-painted wall tells a story. The cows, for instance, are representative of the old trade-in India when cows were used to tow milk and other goods around this part of the city.
Here are some examples of some of the beautiful art that you can expect to see. Unlike 'graffiti' you see in other countries, these examples are commissioned by the government. You're unlikely to see any street art in Singapore that hasn't been pre-approved.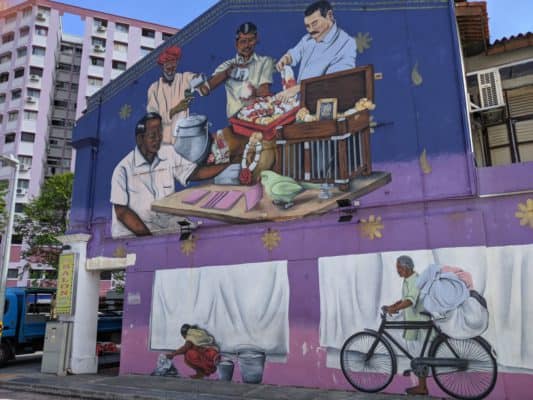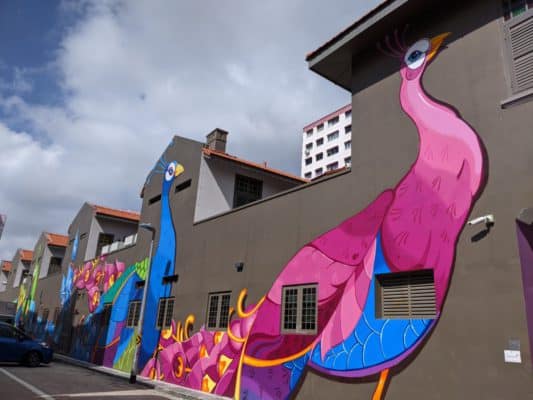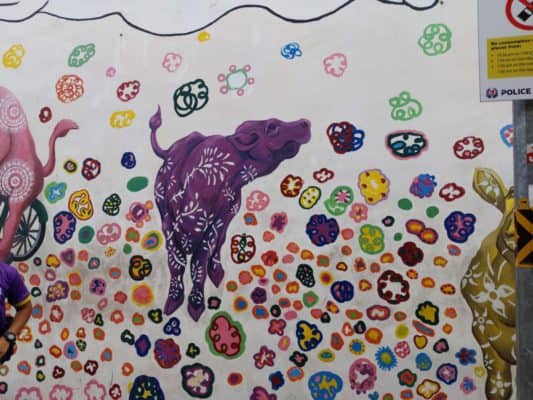 Your tour guide will take you to an Indian restaurant where you can try some traditional South Indian food such as the Masala Dosa and make sure you try the Chai (Indian Tea). It's also customary to eat with your hands, so make sure you wash your hands!
Top Tip: Wherever you go, always look for free walking tours. We've mentioned them before in other articles, including The City of Venice – Not Just a Trip For the Romantics. Although they are not strictly free as it is customary to tip at the end, this is usually a discretionary amount that you decide.

Binge Travelling
Botanical Gardens – Singapore's Garden of Eden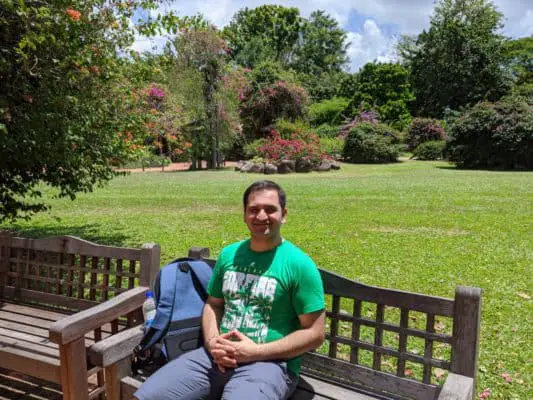 If you're a garden nerd, have green fingers or just like a bit of Garden of Eden type scenery then the Botanical Gardens are for you, it's also very accessible via Singapore's Metro line.
We wandered here for a couple of hours, it's huge and beautiful. Although most of the gardens are accessible for free, you do have to pay to get into some areas. It is a UNESCO World Heritage Site. Find out more here on the Visit Singapore website.
Garden
Opening Hours
Details
National Orchid Garden
8.30 am – 7 pm
Adult: S$5
Student: S$1
Children (<12 yrs): Free
Singapore Botanic Gardens Seed Bank
9 am – 6 pm
Closed every Friday, except on public holiday
Gallop Extension
5 am-midnight
Access restricted to unlit areas 7 pm – 7 am
Jacob Ballas Children's Garden
8 am – 7 pm
Last admission: 6.30 pm
Closed every Monday, except on public holiday
The Learning Forest
5 am-midnight
Access restricted to unlit areas 7 pm – 7 am
Ethnobotany Garden
5 am-midnight
Centre: 9 am – 6 pm
Closed on last Wednesday of the month
Ginger Garden
5 am-midnight
Free Entry
Healing Garden
5 am – 7.30 pm
Free Entry
Fragrant Garden
5 am-midnight
Free Entry
Foliage Garden
5 am-midnight
Free Entry
Evolution Garden
5 am-midnight
Free Entry
River Cruise – A Sneak Peek into Singapore's Iconic Landmarks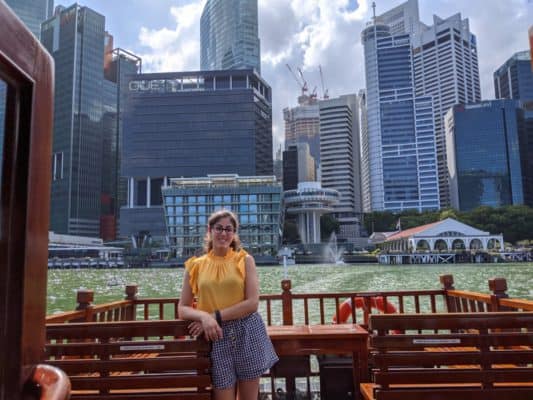 This is a great way to see all the major landmarks of Singapore, especially if you're only in town for a few days. Plus, you get a guided, relaxing boat tour lasting around 40 minutes.
You can board the boat at one of three stops: Marina Bay, Boat Quay or Clarke Quay. You'll be able to see the riverside restaurants, Helix bridge, Marina Bay Sands, Merlion, Singapore Flyer and Gardens by the Bay.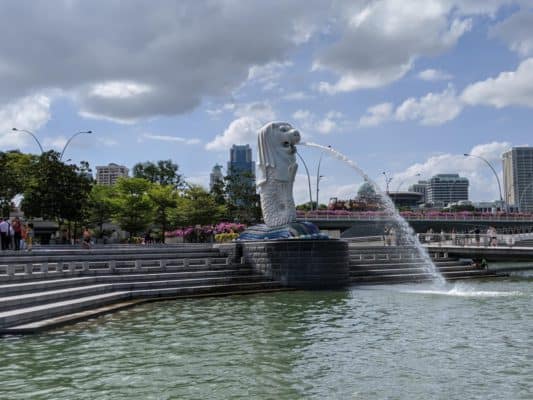 It's a great photo opportunity too. Here's a GetYourGuide link that for more information.
Cost: Adult: S$25, Children: S$15
China Town – Singapore's Oriental Roots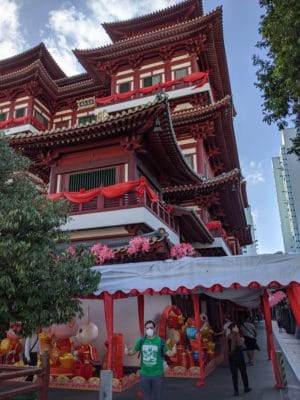 China Town is a must-visit place in Singapore. It's got a lot of historical significance in Singapore and has the most going on in terms of markets and street food. It's home to the Temple of the Tooth (Buddhist temple) as well as the oldest Hindu temple in Singapore.
Why is the oldest Hindu temple in China Town? The answer is simple, the temple was built when Singapore was a British colony and before the districts were developed.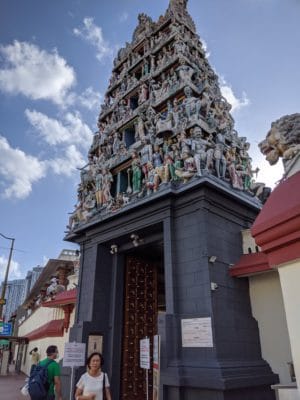 The temple of the tooth is considered sacred because it houses one of Buddha's teeth.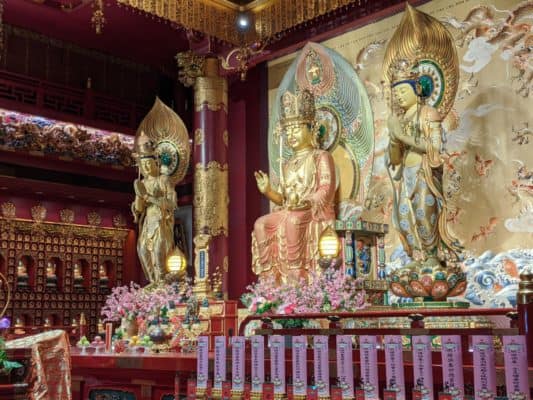 This was reminiscent of our trip to Sri Lanka, which also has a Temple of the Tooth in Kandy, a major city there. If you're interested in reading more you can check out our article on Sri Lanka here.
Hands down, this is the best place to get gifts and souvenirs at a fantastic price. China Town is much bigger than Little India and as such has many more shops and restaurants.
Apparently it's also good for electronics if you're into that sort of thing.
There's a lot to choose from. We had a wander here by ourselves, but the free walking tour we did for Little India also do a tour for China Town that we'd recommend.
Night Safari – Visit Singapore Zoo at Night!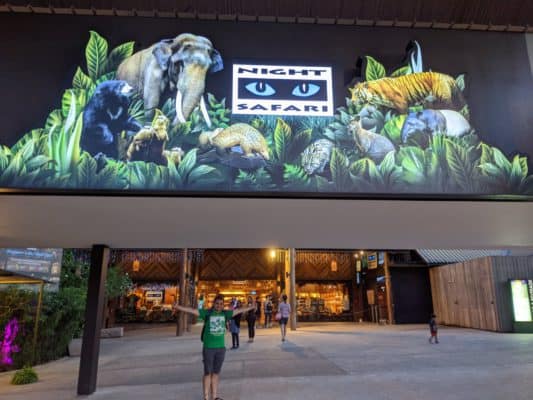 Are you up for a wildlife adventure at night? We were. It's family-friendly too. You hop onto a tram for a trip around you get to see a variety of animals roaming around at night. It's completely safe.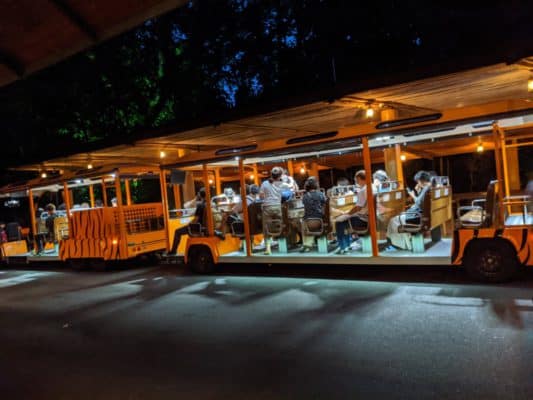 We got to see everything from lions to tigers to elephants. There are also opportunities to see other shows and performances by the staff at the zoo. There are also walking trails available to get closer to the action.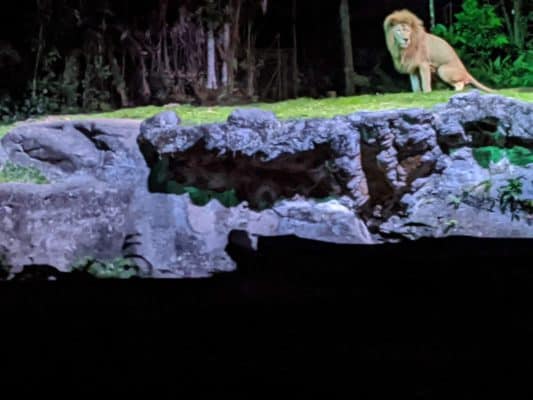 If you have young children, or you just love animals, you can go to the zoo for breakfast where you get to feed the animals including the monkeys in the morning. Find out more here on the Visit Singapore website.
Marina Bay Sands – Singapore's Coolest Building

This is a must-visit landmark in Singapore. This impressive building stands tall along the skyline in Singapore. In case you don't know it, it's the three towering buildings with the surfboard-shaped deck on top.
You have two options to see the view from the deck. Let's look at both.
Option 1: Observation Deck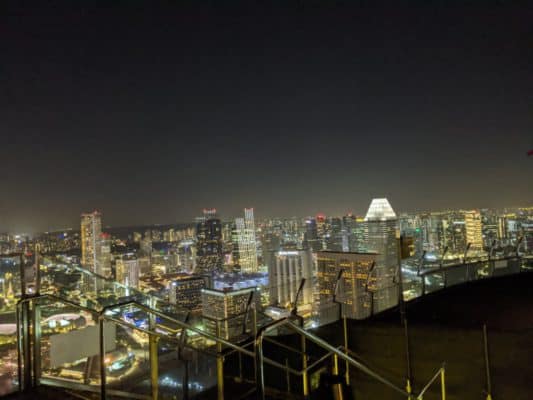 The Observation Deck is located on the 57th floor and you get to take in the incredible panoramic views.
Opening Hours: Monday – Thursday: 9.30am – 10pm, Friday – Sunday: 9.30 am – 11pm.
Cost: Start from S$23 however hotel guests get free entry.
Option 2: CÉ LA VI
This is a rooftop bar also located on the 57th floor. This would be our recommendation. Why? Well, you pay S$23 to enter, but this is fully redeemable on drinks and food.
The views are just as impressive. However, bear in mind S$23 can't get you much, We managed to get two appetizers within that with no drinks. We were however pleasantly surprised by the food – great portion sizes and they were delicious!
Day 2 Singapore – National Museum of Singapore, Universal Studios & Gardens by the Bay
National Museum of Singapore
If you're looking for a cultural injection this is the place to get it. This museum is one of Singapore's oldest buildings, dating back to 1887.
As well as learning of Singapore's conception by the East India Company when the country was under British rule, you'll also have the chance to see some pretty impressive art. In any case, it's worth a wander.
It's an expensive admission charge, to be honest. We'd recommend the special exhibition if you're going to go.

 
Permanent Galleries (All Level 1 & 2 Galleries and Glass Rotunda)
Special exhibition Founding of Singapore,
1600–1800
 All Galleries
Standard Adult 
 S$15
 S$18
 S$26
Concession1
Senior (60 years and above)
Student2
Special Access3
  S$10
 S$14
S$19
Here's a link to the official National Museum of Singapore website to you can use to check prices and see current exhibitions.
Universal Studios – Singapore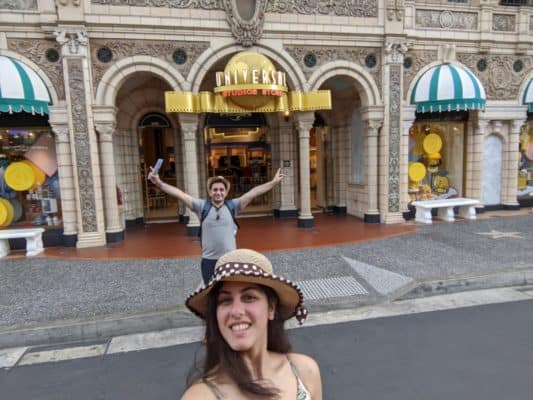 If you're an adrenaline junkie or have kids, we would definitely recommend hopping over to Sentosa Island to go to Universal Studios.
Whatever age you are, it definitely brings out the inner child in you and everyone else! You'll see people dressed up as minions, cats, all sorts, it's a lot of fun.
It can get very busy, so you would definitely need at least a day here if you want to fully experience what the park has to offer.
The park is split into 7 areas, we've noted our highlights:
The Lost World – Water World – A Death-defying water stunt show
Ancient Egypt – Mummy Roller Coaster in the dark
Sci-Fi City – 2 Mega Roller Coasters – Cylone & Human
New York – Lights, Camera, Action by Steven Spielberg – How Holywood does special effects.
Hollywood – More for kids – A chance to meet the minions and stars from Sesame street
Far Far Away – the 4D Shrek Cinema experience is fantastic
Madagascar – For small kids – The riverboat ride is amusing
Each area has something different to offer, but it's well catered for all a variety of attractions for all ages.
Going to Universal Studios is not cheap, but here's a guide of what you can expect to pay.
| | |
| --- | --- |
| | One-Day Tourist Ticket |
| Adult (Age 13 to 59) | S$79 |
| Child (Age 4 to 12) | S$59 |
| Senior (Age 60 and above) | S$41 |
Top Tip: When you check into your hotel, always ask for a map. They are useful generally, but usually have vouchers giving you discounts for attractions like Universal Studios.

Binge Travelling
You can also get a locker to securely keep your belongings while you enjoy the rides. A locker costs S$15 for a full day. We were only interested in going to Universal Studios, however, there are various options to buy combined tickets that cover a few days for other attractions, such as:
360 degree Aerial Cable Car
Adventure Cove Waterpark
Skyline Luge
S.E.A Aquarium
Madame Tussauds
Prices vary across all of these attractions. If you are intending on visiting one or more of these attractions with Universal studios, you should consider buying a combination ticket. Here's a link to Klook.com, where you can purchase your ticket.
There are plenty of hotels on the island as well, so you can stay pretty close to the attractions.
Gardens by the Bay – Home of Singapore's Super Trees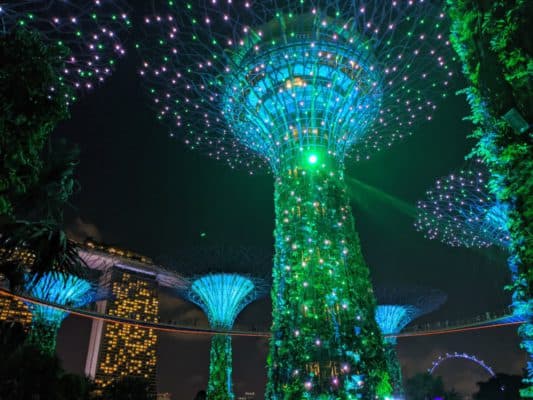 Supertrees were one of the reasons we wanted to visit Singapore. They are pretty cool. We have to admit, they were not as big as we thought they were going to be but saying that the free light show put on every evening more than made up for it.
What is fantastic about this is the FREE light show called the Garden Rhapsody that occurs daily at 7.45 pm and again at 8.45 pm. The lights move with the music, there's something really special about it.
You can also see the lights from the top of Marina Sands Bay as well, so make sure you look out for them when you visit.
Anyway, just pick a spot under the supertrees and enjoy the 15-minute show filled with Pavarotti and color. There is a cafe and a food court nearby so if you want to grab some food, have a picnic before or during the lights show, that's fine too.
Admission to the outdoor gardens and Children's Garden at Bay South is free, but you will have to pay if you want to enter the Cooled Conservatories, Floral Fantasy, OCBC Skyway, and Supertree Observatory.
Is it worth paying for admission to the Observatories and the Sky Walkway? To be honest we don't think so. Having also been to the Botanical gardens earlier in this trip, we had had our fill of plants. The lights show is something else though, and it's already free.
Nevertheless, it may be worth your while. Here is the price list in case you're wondering.
Two Conservatories
Floral Fantasy
OCBC Skyway
Supertree Observatory
Adult
S$28
S$20
S$8
S$14
Child
(3-12 yrs old)
S$15
S$12
S$5
S$10
There are different opening hours and last admission times for the different attractions, so find out more here on the Gardens by the Bay website.
Getting Around Singapore in 2 Days
Singapore Tourist Pass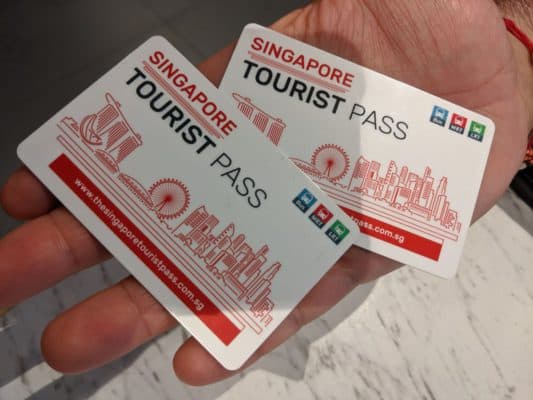 It's super easy to get around Singapore. There are plenty of public transport options. We chose to get the Singapore Tourist Pass – this is a card that offers tourists unlimited travel on Singapore's basic bus services, MRT (metro) and LRT (Light Rail Transit) train for either 1 day, 2 days or 3 days depending on which ticket you purchase.
| | |
| --- | --- |
| Type | Price |
| 1 Day | S$10 |
| 2 Day | S$16 |
| 3 Day | S$20 |
Some things to bear in mind:
If you choose the 2 or day pass, the travel must be on consecutive days.
There's a refundable S$10 deposit you need to pay in addition to the price above. You can collect this refund once you return the card to one of the stations within 5 days of purchase.
The card is only available for purchase at certain stations (see table below).
To find out more about this pass, you can also check out the official Singapore Tourist Pass website here.
Station (Metro) MRT Station
Opening Times
Ang Mo Kio
Daily: 8 am – 9 pm
Bayfront
Sat, Sun & Public holidays: 12 pm – 3:45 pm
Sat, Sun & Public holidays: 4.45 pm – 6.00 pm
Weekdays: Closed
Bugis
Daily: 10 am – 9 pm
Changi Airport
Daily: 8 am – 9 pm (Terminal 2)
Automated STP Kiosks available 24hr daily (Terminal 2 & 3)
Chinatown
Daily: 8 am – 12.30 pm | 1 pm – 4 pm | 5 pm – 9 pm
City Hall
Daily: 9 am – 9 pm
Farrer Park
Daily: 12 pm – 3.45 pm | 4.45 pm – 7.30 pm
HarbourFront
Daily: 8 am – 4 pm | 5 pm – 9 pm
Automated STP Kiosk available 24hr daily
Jurong East
Daily: 12 pm – 3.45 pm | 4.45 pm – 7.30 pm
Kranji
Fri – Sun: 12.30 pm – 3.45 pm | 4.45 pm – 7.30 pm
Mon – Thurs & Public holidays: Closed
Lavender
Daily: 12 pm – 3.45 pm | 4.45 pm – 7.30 pm
Public holidays: Closed
Orchard
Daily: 8 am – 9 pm
Automated STP Kiosk available 24hr daily
Raffles Place
Weekday: 8 am – 9 pm
Saturday: 8 am – 5 pm
Sundays & Public holidays: Closed
Somerset (Concession Card Replacement Office)
Daily: 10 am – 2 pm | 3 pm – 6 pm
Public holidays: Closed
Tanjong Pagar
Weekday: 12 pm – 3:45 pm | 4.45 pm – 7.30 pm
Saturday: 12 pm – 3:45 pm | 4.45 pm – 6.00 pm
Sundays & Public holidays: Closed
Woodlands
Daily: 8 am – 9 pm
The Grab App – The best way to Taxi around Singapore
The Grab App is equivalent to Uber in Singapore except you can use it for lots of other things like tickets, payments, delivery as well as food.
It's free and available to download on your phone and really easy to use. It's got the same functionality as Uber and can save you a lot of money in this expensive city.
For more information, here's a link to the official Grab App website for Singapore. Grab are all over Asia, so the chances are you can use it in another country as well, we, for example, used it in Thailand as well.
Where We Stayed in Singapore – It's important
As mentioned in our Thailand blog post, link here, location is key wherever you go. If you only have two days though, it's even more important, so that you can maximize your time.
When you go to Singapore, the best area to stay in generally around the Dhoby Ghaut area. It's pretty central. Some places are walkable like Museums. Most places are accessible using the metro from here too.
Where we stayed: Rendezvous Hotel Singapore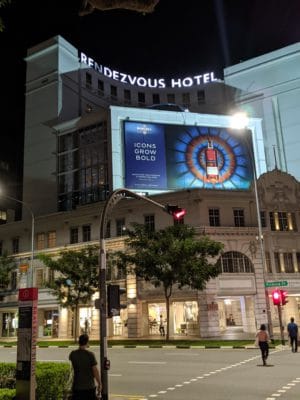 Located in the Arts & Heritage District (near the Dhoby Ghaut Area), this hotel was perfectly located to visit some sights within walking distance as well as being conveniently situated next to an MRT (Metro) stop and another stop just 5 minutes walk away.
The room was spacious, modern, clean and nicely decorated and the staff were super friendly and helpful.
There was a variety of options available for breakfast from more of the English type breakfasts (eggs, sausages baked beans, cereals etc), European (pastries) to Asian (rice, curry etc). You can also get eggs made on the spot how you like them.
Where We Ate in Singapore
Tekka Hawker Center
Hawker Centers are an area of a variety of food stalls catering for different inexpensive food. There are many across Singapore. If you're researching where to eat in Singapore you'll hear about them a lot.
Scroll about 3 minutes into the below video for more great tips on where to eat in Singapore. Matt, the presenter has great tips generally.
We went to the Tekka Hawker Center, which served a mixture of Chinese, Indian and Singaporean dishes. Located in Little India, we opted to get freshly cooked onion paratha from one of the stalls. As this center is located in Little India, we definitely recommend trying out one of the Indian food stalls.
Jumbo Seafood – Our Posh Meal in Singapore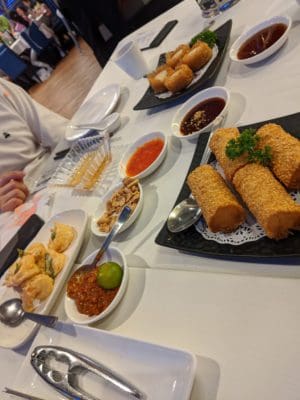 So, the other end of the spectrum is Jumbo Seafood. There are six of these restaurants across Singapore and many more scattered in other Asian countries.
And it's all about the chili crab! This is a must-dish to try when visiting Singapore.
The food here was piping hot, delicious and had a variety of dishes on offer to suit everyone's taste.
It's definitely a popular restaurant and the service was really good too. We were fortunate to be meeting up with friends who live in Singapore, who chose this restaurant and there's nothing like getting a local's recommendations. Every dish was fantastic!
Other Attractions in Singapore?
If you have more time in Singapore, we'd recommend the following attractions. Although we didn't get a chance to go, they've received some great reviews.
Visit Kampong Glam – Known as the Arab or Muslim Quarter, this area is famous for the Sultan Mosque with it's Golden Dome as well as it's clothing boutiques. You can take a free walking tour of this area as well.
Wings of Time: Singapore's permanent night show on Sentosa Island, telling a folktale using lasers, fountains and projected images it's something to see, we wish we had the time. Here's a link to the official Sentosa, wings of time page for more information.
Mount Faber Park – Take a cable car or drive up to one of Singapore's highest hilltops. As well as the view you could also treat yourself to a meal. Maybe have this as your indulgent meal for your holiday. Here's a link to the official Visit Singapore website for more information.
Are Two Days in Singapore Enough?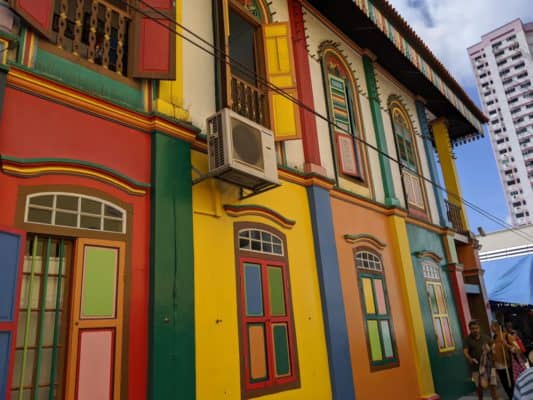 The short answer is yes. If you're organized, know what attractions and sights interest you, then two days is plenty of time to spend in Singapore. If you're going with children or want more of a relaxed holiday, we'd recommend spending between 3 to 5 days.
What is Cheap in Singapore?
If you stick to food in Hawker Centers, the food is pretty cheap costing around S$3-5 and great value for money and super tasty.
Soft drinks.
China Town – a great place to get gifts and souvenirs, the prices are incredibly cheap.
Is Singapore as expensive as people say it is?
Singapore is an expensive city, especially if you choose to live there. That said, it's not ridiculously expensive as a tourist. There are some really easy ways you can avoid overspending. Let's look at that.
How can I avoid spending too much money in Singapore?
Stay in a hostel or hotel near the Dhoby Ghaut area – Lot's of attractions are walkable
Use a tourist pass and grab taxis where you need to.
Utilize free walking tours like Monster Tours (linked to official website) as mentioned earlier.
Make sure you use discounts, e.g most maps that you get free from hotels will include discounts for attractions like Universal Studios.
Don't rush to pay for things like the viewpoint at Marina Sands Bay or Gardens by the Bay. See what you can do for free first.
Food doesn't have to be really expensive if you eat at food courts and Hawker centers.
What is generally expensive in Singapore?
Alcohol! Alcohol is heavily taxed hence the price. An average beer costs US$8.37 (S$11.40). 
Restaurant food is pricy – for two people budget around US$105 (S$150).
Hotels – Prices vary Budget S$40 – Mid Range S$94 – Luxury S$300.
Sentosa Island attractions e.g Universal Studios.
Nightclubs.
How much money should I budget for a trip to Singapore?
So obviously this depends on what you want to do but our advice is to first consider the upfront costs like:
Tourist Pass – S$30 (Includes S$10 which you get back when you return your card).
Grab Taxis- Budget at least S$50.
Excursions – Minimum of S$200 per person to do a similar itinerary as us.
Food Budget per person: S$65 is reasonable – You are on holiday after all. Breakdown below:
Breakfast – S$15 – Cafe
Lunch -S$15 – Hawker Center
Dinner – S$35 – Foodcourt or Average Restaurant
Then variable costs like food, just be clever – If your hotel provides breakfast, stock up, eat at Hawker centers for lunch, and maybe have one restaurant meal when you're there.
Total Holiday Budget per person in Singapore for 2 days excl. Hotels: S$320 = USD $220 = GBP £180.
In Conclusion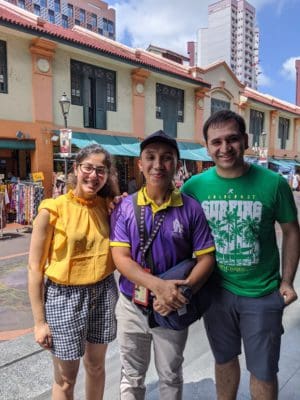 We hope you've found our 2-day Itinerary Trip to Singapore useful. As mentioned we coupled our trip to Singapore with Thailand, which was perfect mainly because of the following reasons:
Singapore is expensive, but in a couple of days, you can take in the main sites and get a feel for the place without breaking your bank account.
Thailand is comparatively a lot cheaper but offers a different experience in terms of activity and culture. As a combination, Thailand and Singapore were brilliant.
Here's a link to our Thailand article (also included further up in the article), if you want to see what we got up to there.