Having traveled from the north to the south of Thailand, we've got a pretty good idea of where to go and what to do. It's a pretty amazing place that's culturally very cool too. With lots of adventure and breathtaking scenery too, it is a no-brainer destination in our opinion. Anyway, let's get into it.
So here are our top reasons why Thailand is worth visiting:
It's Cheap – Food, Trips, and Accommodation – It's all affordable
Fantastic Food – It's a tour of the taste buds. If you like spices and coconuts, this place is for you.
Beaches – Stunning powdery beaches and warm waters.
Activities – From Temples to Trekking, Thailand really has it all
Our Kick-Ass Itinerary – That you can follow
These statements are relatively generic. Depending on where you go, prices, the food, the beaches, and activities are all different. Luckily for all of you though, we can give you our view on all of these as well as a view of what we got up to.
Thailand is a cheap place to visit – It's worth the trip
One of the reasons we chose to travel to Thailand is that it is more affordable than a lot of luxury travel destinations, and still has beautiful powdery beaches.
The Thai currency is Baht. Here are some currency conversions you can use as a guide in terms of cost.
| | |
| --- | --- |
| Currency | Thai Baht (B) Rough Guide |
| 1 GBP (British Pound) | 40 Baht |
| 1 USD (US Dollar) | 32 Baht |
| 1 Euro (European Currency) | 35 Baht |
As we mentioned before, prices vary depending on where you are in Thailand.
Where should I travel when I visit Thailand?
We visited the following areas:
Bangkok – For the City life
Chiang Mai – For the great outdoors and local feel
Koh Samui – For the beaches and fish
Krabi – For the beaches and fun
We'll go into each of these places in our itinerary but before we get into that, here's a view of what you can expect to be paying when you're out there.
So let's look at a few important categories per place to give you a full overview.
Thailand Destination
Cost per day per person (pp)
Bangkok
Hotels: 800 – 4000 Baht pp
Meals: 50-700 Baht pp
Group Tours: 1500-1900 Baht pp
Best way to travel: 250 Baht per journey
Chiang Mai
Hotels: 500 – 3500 Baht pp
Meals: 50-500 Baht pp
Group Tours: 800-1200 Baht pp
Best way to travel: Grab or Tuk Tuk -50 Baht per journey
Koh Samui
Hotels: 400 – 4500 Baht pp
Meals: 50-500 Baht pp
Group Tours: 1200-2900 Baht pp
Best way to travel: Local Taxi or Tuk Tuk -200 Baht per journey
Krabi
Hotels: 600 – 4500 Baht pp
Meals: 50-500 Baht pp
Group Tours: 1000-2400 Baht pp
Best way to travel: Grab or Tuk Tuk -150 Baht per journey
When you are in Thailand remember to BARGAIN with everyone, not just in the markets! You'd be crazy not to. So much is negotiable in Thailand including group and private tours. Prices above should be used as a benchmark of what you should be paying.
How much should I pay for a hotel when I visit Thailand?
It depends where you go, but here's a guide you can use for the areas in Thailand that we visited.
Here's how much you should be paying for a hotel in Thailand. Below are approximate prices per room per night, during peak season (November – March).
| | | | |
| --- | --- | --- | --- |
| Destination | Budget Hotel | Mid Range Hotel | Luxury Hotel |
| Bangkok | 870 Baht | 1100 Baht | 3150 Baht |
| Chiang Mai | 550Baht | 1300 Baht | 3400 Baht |
| Koh Samui | 475 Baht | 1700 Baht | 4000 Baht |
| Krabi | 670 Baht | 1580 Baht | 4500 Baht |
These prices have been validated using data from Trip Advisor and Booking.com.
We have some hotel recommendations below. We always link to Trip Advisor reviews rather thank the main hotel websites.
We link to Trip Advisor because they represent experiences of real people. We review our experiences there too. Here's a link to our profile if you want to check out our thoughts on some of the places we've been to.
Whenever we travel to any country, we try to see and do as much as possible. Location is therefore key to maximize your time and reduce your costs in terms of travel fares.
So it's useful to know where to stay, as it just makes your holiday better!
What are the best locations to stay when visiting Thailand?
We try to strategically pick an area where we can get to attractions on foot if possible or as close as possible. The hotels we have recommended above are picked with the location in mind.
What is the best area to stay in Bangkok?
Iconic tourist points in Bangkok, including the Grand Palace, the Reclining Buddha, the Wat Arun Ratchavararam and Asiatique are all along Chao Phraya River. This will include the Sukhumvit area.
With that in mind, it's best to stay as close to the River as possible. This will save you money on taxi fares.
There is also a hop on hop off river taxi costing around 150 Baht, a for a day pass, so you can travel in between points without spending additional money. We'll go into this in a bit more detail when we go through our travel itinerary.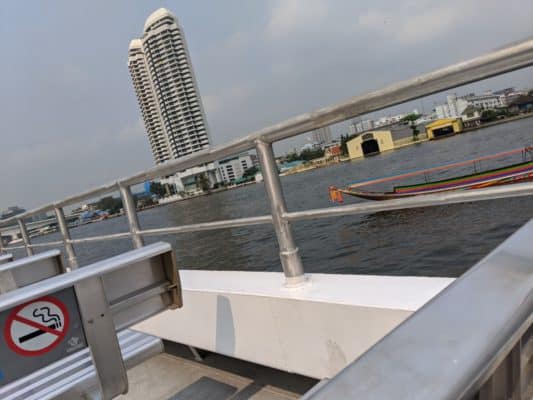 This is a great way to save money if you don't want to go on a group tour.
What is the best area to stay in Chiang Mai?
In Chiang Mai, you want to stay in the Old City. It's a great central location to explore and is within walking distance of great restaurants, bars, and major tourist points such as Wat Prasingh (A beautiful temple nearby).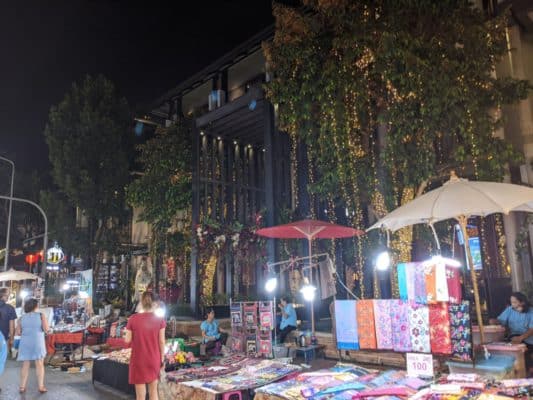 If you are around on a Sunday, the night market is fantastic. It's a great place to pick up souvenirs, try some street food, and experience some local music.
What is the Best Area to stay in Koh Samui?
In Koh Samui, the best places to stay are in Chaweng, or in close proximity to the Fishermans Village.

Koh Samui is a Fishermans town, and because of that all the great restaurants and markets tend to be around the Fishermans Village. We found taxis to be more expensive than other areas of Thailand, with that in mind it's worth staying closer to the tourist attractions.
What is the best area to stay in Krabi?
Rather than staying in Krabi Town, which is extremely congested, it's better to stay in Ao Nang. From here you have access to Ao Nang night markets, you're right on the coast to watch the sunrise and sunset from one of the lovely bars.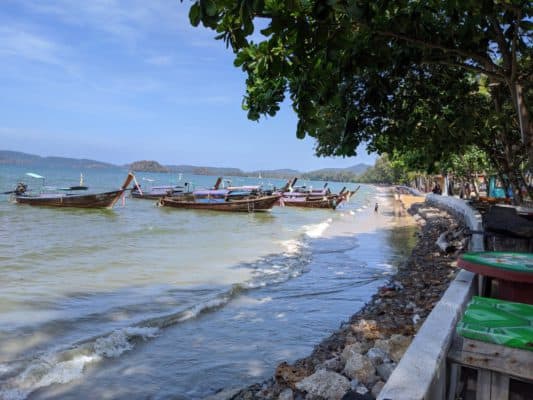 From Ao Nang, there are lots of Tourist Information Points where you can book tours, and be sure to bargain with the vendors! There's also a shuttle taxi boat service to Railay beach which is fun.
Thailand Food is fantastic! We visit countries with our noses and our mouths!
So whenever you travel anywhere, it's always worth jumping on a computer and googling foods to try. We always ask our friends too and make a food hit list. So here's our ticked list for your notes!
So what Thai food should you try when you visit?
Kow Soy – A crunchy noodle soup. With tofu, shrimp, chicken – whatever – it's amazing.
Morning Glory or (Pad Pak Boong ) – looks like stir fry green beans, spicy but great!
Tom Yum Soup – Probably the best soup you'll ever have. Vegetable, chicken it's all good.
Mango and Sticky Rice – It's a weird combination, but it does work.
Pad Thai – Thai staple! Our go-to dish before we started sampling. We still love it.
Red Penang Curry – cashew infused red curry with chicken, shrimp or vegetables. Yum!
A coconut with a straw – Buy great fresh coconuts, and the water is so sweet! Try it.
We love the food so much, we even tried a Thai cooking class, which was fantastic by the way. You'll find Thai cooking classes everywhere.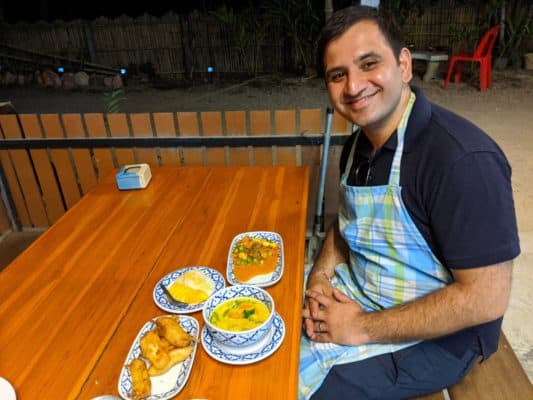 We decided to give it a try in Krabi but you should be able to do it anywhere. We did hear that this course is cheaper in Chang Mai, so it may be worth a try there.
In any case, It was a brilliant experience. We were given a choice of four dishes to pick from (a mixture of mains, desserts, and starters), taught how to make them, and given a certificate and recipe book afterward.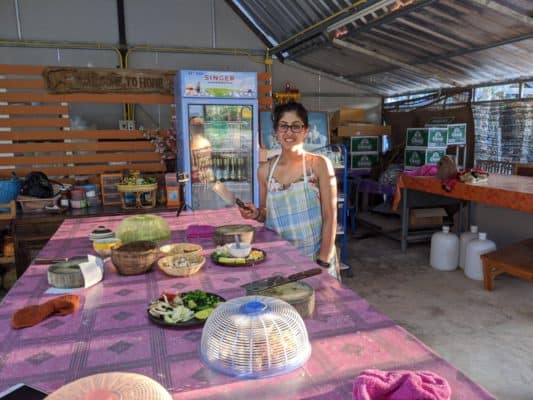 Cost: roughly around 1200 Baht per person which is around 31 GBP or 36 USD.
It's super professional, you get picked up and dropped off, really worth it! If you decide to try it out in Krabi, we reviewed our experience on Trip Advisor which you can check out here, as well as others.
Which part of Thailand has the best beaches? – These ones are worth visiting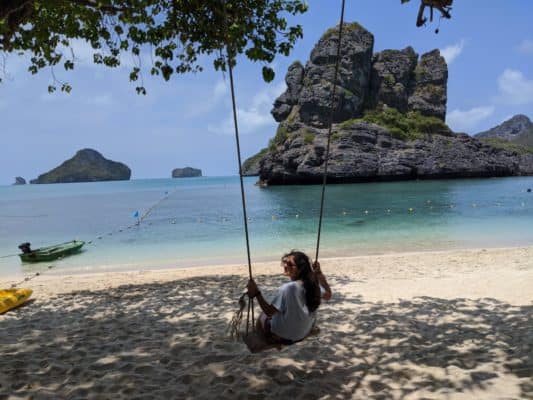 Thailand has some gorgeous beaches, and warm waters but what's even more amazing is the iconic, breathtaking scenery you get with them in our opinion.
We went to two coastal towns, Krabi and Koh Samui. To be honest they were both pretty similar. The beaches and scenery are great too. If we were going to pick one, we'd probably go for Krabi.
The reason being is that we prefer the surrounding town that we stayed in Ao Nang, it's just more relaxed and it's less busy. Nevertheless here are some beaches worth checking out in both towns.
Visiting Beaches in Ko Samui, Thailand
Chaweng Beach – Probably the most popular beach in Koh Samui. Chaweng is the busiest town in Koh Samui, so there's plenty around in terms of bars and food too.
Lamai Beach – This beach is fine for a meal, and a view of the sunset, but the beaches are pretty standard.
Boput Beach – This beach is lovely, but this area is more about the Fishermans market on a Friday and its fantastic restaurants.
Beaches at Mu Ko Ang Thong Marine Park – Islands just of Koh Samui. Our Favourite! You'll need to take a boat ride but it's so worth it! Soft sands, warm waters and a view of all the small neighboring islands, it's just perfect. You can go kayaking too!
Visiting Beaches in Krabi, Thailand
Ao Anang Beach – Just a beautiful beach. Ideal for a little picnic. Watch the longboats take people over to neighboring Railay Beach.
Railay Beach – Only accessible by boat from Ao Anang beach. Worth a visit for sure. With its beautiful limestone cliffs, you won't be disappointed.
Phi Phi Islands – Travel by speed boat to uninhabited islands, more limestone cliffs, and stunning scenery.
Activities in Thailand, Tours you need to do when you visit and costs!
There are loads of activities, historical sites, scenic views and natural wonders in Thailand. Our advice is to do as many of them as you can when you visit. Group tours and private tours comparatively more affordable than many other countries and the service is generally really good.
We went on a few because you can get great deals with tourist Information vendors out there. There are loads of them, and they're all prepared to do a deal.
Here are our top picks of activities when you visit Thailand
Thailand Destination
For Culture
For Adventure
For Views
For Food
Bangkok
Grand Palace
Reclining Buddha
Wat Arun

Floating Markets
Moon Bar – Banyan Tree Bangkok.
The Local
Asiatique
Iconsiam
Chiang Mai
Wat Umong (The Tunnel Temple),
Chat to a Monk
Bua Tong Waterfall (Sticky Waterfalls) Trek and Tour
Elephant Sanctuary

Doi Su Tep Temple
Sunday Night Market
Koh Samui
Big Buddha,
Wat Plai Laem,
Grandmother and Grand Father Rocks
Speed Boat Trip & Snorkelling
Safari Tour
Angthong National Park
Tree House, Friday Night Market – Fishermans Village
Krabi
Tiger Cave Temple
Hot Spring Waterfall
Emerald Pool
1,237 stair Mountain trek next to Tiger Cave Temple
Thai Cookery School
Bangkok Visit – Advice on Tours and Activities in Thailand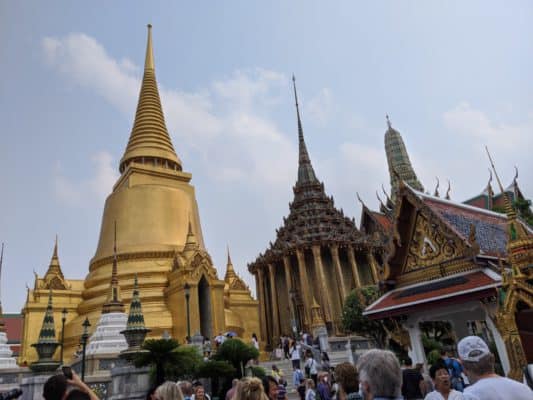 Bangkok is a pretty busy place, as you would expect from a capital city. It's easy to judge this city, but there are some cool places to go to and some must-see activities.
There are tours and things that you can book, but honestly, in Bangkok – for the cultural and culinary enthusiasts, you are much better off booking a Chao Phraya Tourist Boat hop-on hop-off boat ticket.
Cost: It's 150 Baht per person for the tourist boat pass (around 5 USD). We'd recommend this one as you get a bit of information about the sites before you dock at your stop as well as a handy leaflet.
Here's the link to Chao Phraya Tourist website for more information about pick up, drop off points and current prices.
Covering basically all of the important cultural must-visit places in the city, its the most time-efficient and cost-efficient way of seeing Bangkok's most important sights.
The following sites are included:
Grand Palace – Thailand most famous landmark and temple – 500 Baht entry fee
Khao San Road – For nightlife and street food
Wat Pho (Reclining Buddha) – Unesco World Heritage site – A beautiful temple – 50 Baht entry fee
Pak Klong Taladd (Flower Market) – Wholesale flower market – good for pictures
Asiatique – Markets, food, and a ladyboy show
Iconsiam (Shopping Mall) – Probably the most luxurious mall we've ever been to
This is already a bargain, but if you want to save more money there is a local boat service that you can take which is around 15 Baht per person.
The Views in Bangkok, Thailand
For probably one of the best views you will ever see, take a trip to Moon Bar – Banyan Tree Bangkok. We were genuinely STUNNED. Shoot up to the 75th floor, and then take the stairs to enjoy this once in a lifetime panoramic view of Bangkok.
Cost: Free entry
The deserts and drinks are overpriced, but it's one of those places that you have to visit. Here's a link to their official site where you can find out more.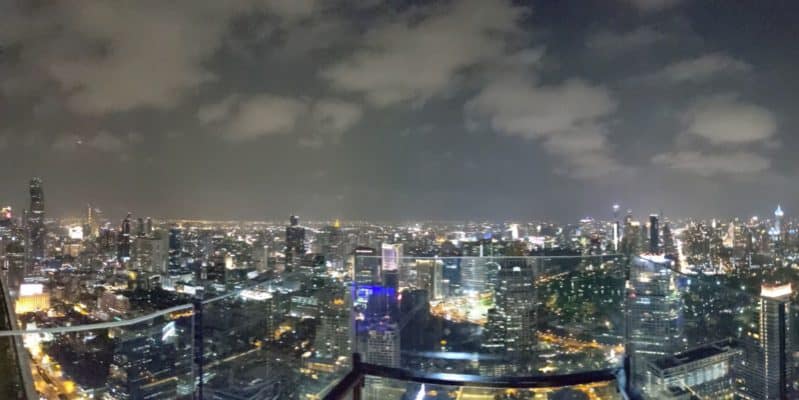 Chiang Mai – Advice on Tours and Visits in Thailand
Chiang Mai is probably our favorite destination in Thailand. It was the cheapest, the most chilled out and friendly place that we visited.
There are also loads of really cool things that you can do in Thailand.
Bua Tong Waterfall (Sticky Waterfalls) Trek
We had the best time on this tour. You'll be trekking through Pui National Park, jumping into a waterfall, and climbing the sticky waterfalls. You'll also climb 306 steps to a beautiful temple in a cave.
We were so excited by the concept of the sticky waterfall we had to try it. You can literally climb up the waterfall. You get picked up about 8 am from your hotel, dropped back around 4 pm and they give you lunch.
Full disclosure: We loved this trip thoroughly, the only thing we would say is that the sticky waterfalls may not be as sticky as you expect and can be slippy in places. Remember your swimming gear.
Cost: It's advertised for about 2500 Baht per person, but with negotiation, you should be able to get it around 1900.
Here's a link to Get your guide to give you a view of what to expect on your trek.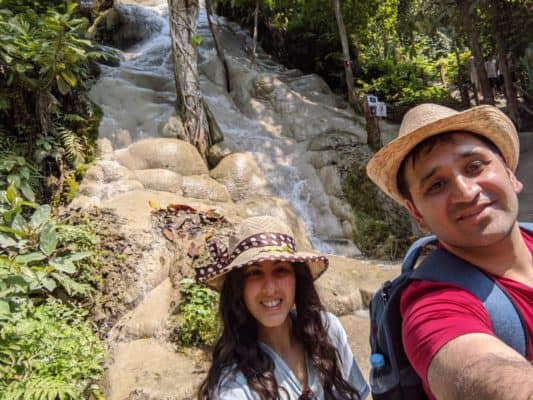 Elephant Sanctuary
You have two options here. The half-day tour where you're briefed, you walk with the elephants to a river, feed them, bathe them in a river and then have lunch. There is a full day option where you also give the elephants a mud bath.
Full disclosure: The elephants are lovely, there were no signs of any animal abuse which was really important to us, we'd definitely recommend it to anyone.
Cost: The half day s advertised at around 1500 Baht per person, the full day is around 2000 Baht.
Here's a link to Banana Elephant sanctuary who we decided to do our tour with should you want more information.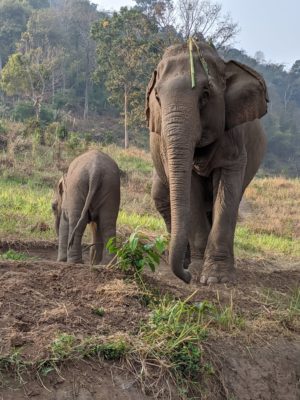 Wat Phra That Doi Suthep – Go at night for the best view of Chiang Mai & Wat Umong (The Tunnel Temple)
An incredible temple on the top of a mountain, that you can drive to. You still have to walk up some dragon steps (the gateway to heaven) until you reach the temple. At night Chiangmai is beautiful.
Full Disclosure: There's nothing to hide. Doi Suthep as an incredible story regarding its location dictated by an elephant (you can find out more when you go there yourself) which makes the experience even more special.
When you get to the top, you also get to sign your name on a large scroll that they have there.
Wat Umong 'The Tunnel Temple' – was included as part of our tour, but is an interesting historical and spiritual site. It's called the tunnel temple because the temple consists of several tunnels that lead into one another.
The temple was built this way for a monk who had Alzheimer's Disease. The king at the time (some 500 years ago) built the tunnels to protect him and prevent him from getting lost. It was also to ensure he could see him whenever he wanted. Lovely story hey!
Cost: We negotiated with our tour guide from the sticky Waterfall tour to take us for 800 Baht for two people, which was a great deal, given that it was a private tour.
You can, however, do this tour as part of a group for around 600 baht per person. Here's a link to a tour operator in Thailand called PM tours for more information. Remember to negotiate.
Sunday Night Market at Chiang Mai
A quick note on this stunning market that we fell in love with. There's music, food, souvenirs and its massive. If you are in Chiang Mai – do not miss it.
Top Tip: The Market goes on from around 5 pm till midnight, but most of the stalls start closing up around 10 pm, so don't be too late.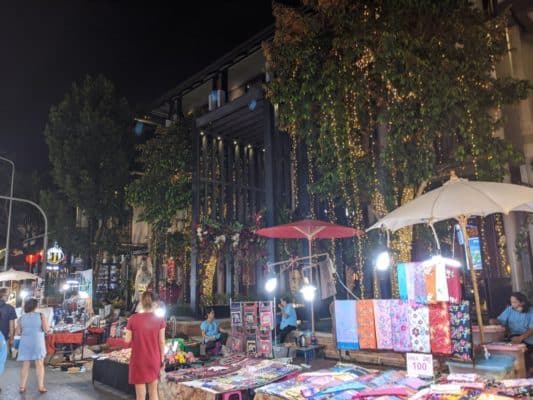 Koh Samui – Advice on tours and trips
Koh Samui is a fisherman town, very commercialized, but don't let this put you off visiting. You'll find that prices are comparatively higher than Chiang Mai, but the sites and beaches are great.
Whilst we were in Krabi we visited Angthong National Marine Park by speed boat, a jungle discovery tour which includes temple visits and so much more. If you're going to Koh Samui, do both.
Anthong National Marine Park – Speedboat, Sightseeing & Kayaking
So these are the main stops:
Stop at Koh Wow Island for Snorkelling – It's fun – There were not as many fish as we would have liked but it was cool.
Emerald Lake – It's a tough climb to the top. It's not for young families, but it is worth it. Brace yourself though, there is another climb.
Kayaking around Koh Samsao Island.
a 500-meter panoramic viewpoint – another major climb.

Full Disclosure: Take trainers as well as swimming gear. The treks are treacherous and you need a grip! You also get breakfast and lunch included as part of the trip.
Cost: Expect to pay up to 2200 Baht per person, but remember you can negotiate on the price. We managed to negotiate a price of 1800 Baht per person.
Here is the trip advisor link to Mr Tu's trip, that we went on. We were slightly apprehensive when booking this tour as google reviews were mixed, but our experience was excellent.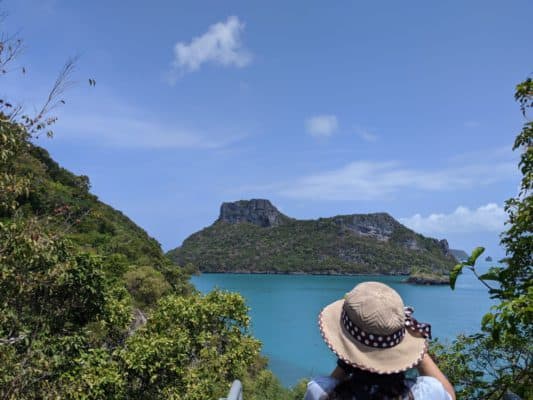 4X4 Full Day Safari Tour – We loved it!
Don't let the off-road name fool you, as part of this tour you see so much more, including more temples (you may be templed out by now), huge Buddha statues, a coconut plantation, and a secret garden. You also get to ride on top of the 4×4 truck as well which is fantastic.
Cost: Around 1500 Baht per person
Here's a get your guide link to the official tour to see the full itinerary.
Fishermans Village Market & Tree House Restaurant
The Fishermans village markets are meant to be the best in Koh Samui. Friday is the main day of the market. We couldn't go but we hear great things. You can get more information through this link from hotels.com, so make sure you check them out.
Another place we wished we had visited, is the treehouse restaurant. It's on the beach and apparently has great food. Its meant to be a perfect place to watch a sunset. Here's a trip advisor link for more information.
Krabi – Advice on Tours and Visits in Thailand
Krabi felt similar to Koh Samui to us. The truth is you can do some pretty similar activities.
We decided not to do the Phi Phi Islands tour as it looked similar to the Anthong National Marine Park but we did go zip lining in the treetops and went for a dip in the hot springs..oh yeah and we visited more temples, well it would be rude not to!
The Krabi Jungle Tour
Probably one of the best tours that we did, which included a dip in the emerald pool, which literally feels like swimming in mineral water. The hot springs are nice too!
The tiger cave trek included as part of this tour was the hardest but the most incredible journey of our trip. You've got to try it. The views are amazing.
Cost: Around 1600 Baht, but again you may be able to get a deal at a tourist information point.
Tree Top Adventure Park
If you're familiar with Go-ape, this is similar but about 20 times more exciting. With over 50 platforms and more zip lines than you can count it's a fun experience.
We had a great time. If you are looking to do something different, this is worth trying.
Costs: 1700 Baht but again you can probably negotiate on this.
Here's a Trip Advisor link to the Tree Top Adventure, should you want more information.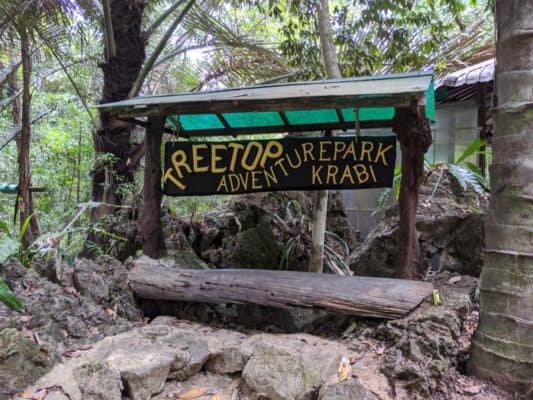 Want to Visit Thailand? Here's our Itinerary exactly how we did it
Here's the order in which we did things as well as how long we stayed in each of our destinations in Thailand. Links for all of the activities can be found in the activities section of this blogpost
2 nights in Bangkok, Thailand – What we did
Where we stayed: Rembrant Hotel (Trip Advisor Linked)
Day 1 in Bangkok, Thailand
We arrived in Bangkok at 4pm on day 1 which meant we only had an evening.
Moon Bar – Banyan Tree Bangkok – for the view. We took a grab from our hotel and paid 200 Baht each way.
Dinner at the Local – Michelin Star Restaurant. We're not used to eating at posh places, but it is more affordable in Bangkok. Our bill came up to around 46 USD.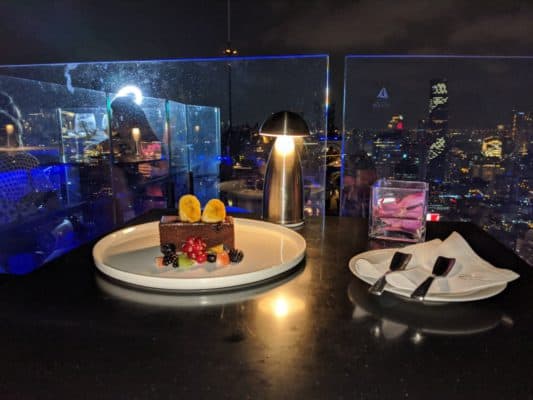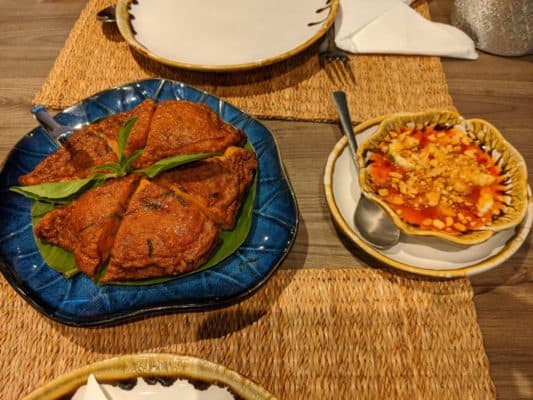 Day 2 in Bangkok, Thailand
Our day of sightseeing, as mentioned earlier in the article we decided to use the hop-on hop off tourist boat to see the following sites costing us 150 Baht per person.
Grand Palace – Thailand most famous landmark and temple – 500 Baht entry fee.
Wat Pho (Reclining Buddha) – Unesco World Heritage site – A beautiful temple – 50 Baht entry fee.
Asiatique – Markets, food, and a ladyboy show.
Iconsiam (Shopping Mall) – Probably the most luxurious mall we've ever been to.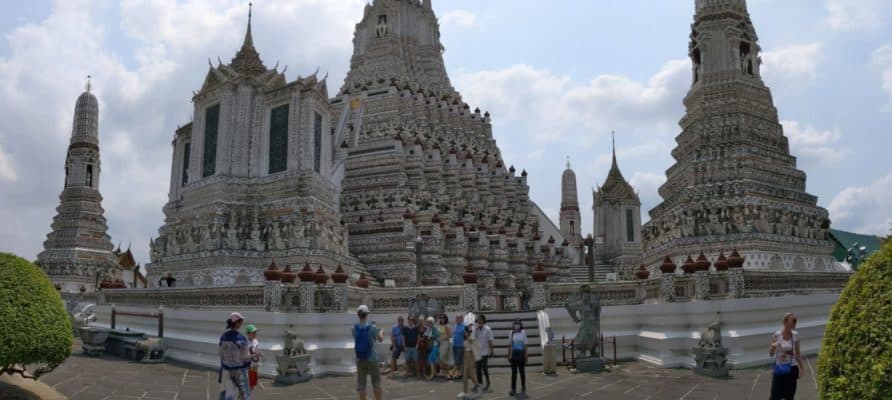 Although we stayed in Bangkok for 2 nights we only had one full day in the city. We were initially worried this may not have been enough time but looking back it's the perfect amount of time.
Top Tip: Buy a data sim if your mobile network is not supported. 17 USD for a sim card with unlimited data from any 7 – Eleven supermarkets.
We then took an internal flight with Bangkok Airways to Chiang Mai.
3 days in Chiang Mai, Thailand – Here is what we covered
Where we stayed: U Chiang Mai
Day 1 in Chiang Mai, Thailand
We arrived in Chiang Mai in the evening again, around 5pm this time on a Sunday. Our hotel was in the midst of the Sunday Night Market, which to be honest was amazing!
We had a great evening wandering the Night Market and eating the amazing food, buying some awesome souvenirs and listening to some local music.
We also found a tourist point to book an Elephant Sanctuary Tour and the Sticky Waterfalls trek.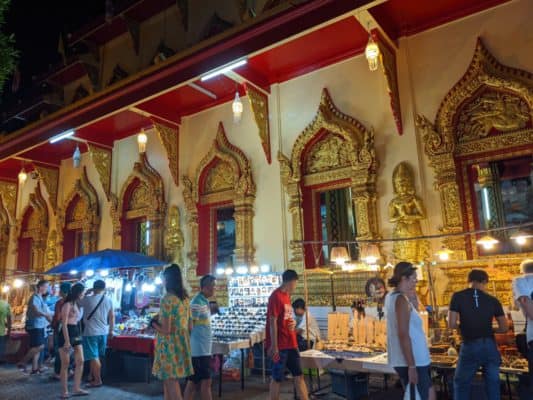 Day 2 in Chiang Mai, Thailand
The day that we washed the elephants and fed them bananas and had lunch too. We also had a chat with some monks about life in general.
We were picked up at about 8 am, taken to the elephant sanctuary where we were greeted by a baby elephant and his mum.
We had a quick briefing before we took the elephants down the river where we washed them. Really surreal experience. You don't know how big an elephant is until you stand next to one
Finally, we were treated to lunch – where we had Pad Thai. Lovely!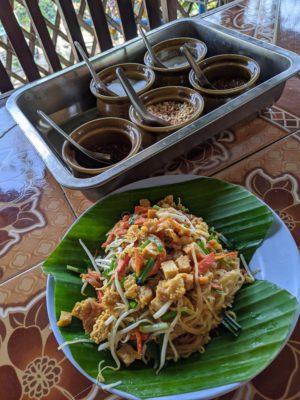 In the afternoon we decided to walk to the Temple of the Great Stupa (Wat Chedi Luang). You have to pay around 20 Baht per person to enter. Here you can speak to young Monks. There is no set program and you can talk to them about whatever you want.
It was interesting to understand the lives of these young men, how much they understand at such a young age as well as their view on human life and purpose.
If you're interested in this, here's a link to a really good resource from a travel blogger, big boy travel.
Day 3 in Chiang Mai, Thailand
Our favorite day in Chiang Mai. We were picked up at 7.30 am as part of a group and did the following amazing activities.
We trekked through a jungle, climbed to the peak of a Buddhist cave, jumped in a waterfall and climbed up a sticky waterfall too. All worth it, all amazing! We were dropped off to our hotel at around 5 pm.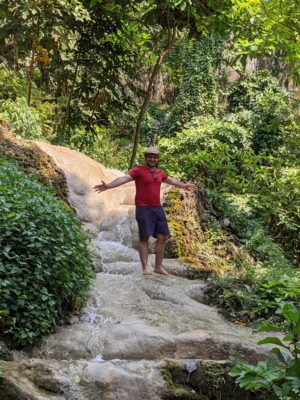 In the evening we decided to take a private tour to Doh Su Thep and the Wat Umong (The Tunnel Temple). The evening is the best time to do this mainly because of the views from the Temple of the lights at night in Chiang Mai. It's gorgeous.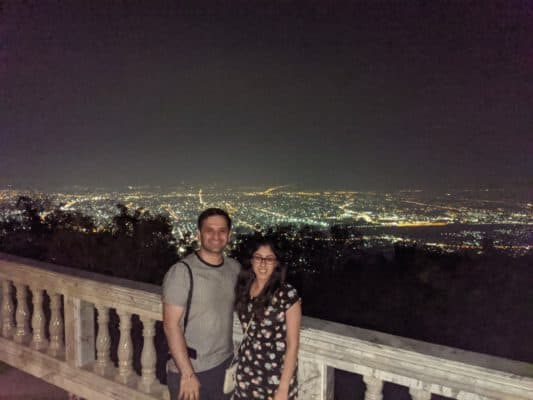 For dinner we tried Kow Soy, this is the place to have this dish as Chiang Mai is known for it, You can get it everywhere.
We flew out the next morning with Bangkok Airways.
3 days in Koh Samui – It's got more than just beaches
Where we stayed: Rocky Resort Island Hotel (Trip Advisor Linked)
Our first beach town trip. Going from Chiang Mai to Koh Samui, you definitely notice the difference between the two places. Koh Samui is much more commercial and touristy. But I guess that is to be expected.
Day 1 in Koh Samui, Thailand
We arrived in the afternoon in Koh Samui. We decided to go to Lamai Beach as it was the closest to our hotel. We spent the afternoon eating and booking our tours (Angthong National Park & 4X4 Krabi Off-Road Major Safari Tour at a tourist information point.
There are loads of restaurants that border Lamai Beach, all relatively similar.
Day 2 in Koh Samui, Thailand
Angthong National Park was an incredible experience, the speed boat journey was long but worth it with the snorkeling, hiking and kayaking activities. It takes the whole day. You will be very tired by the end of it.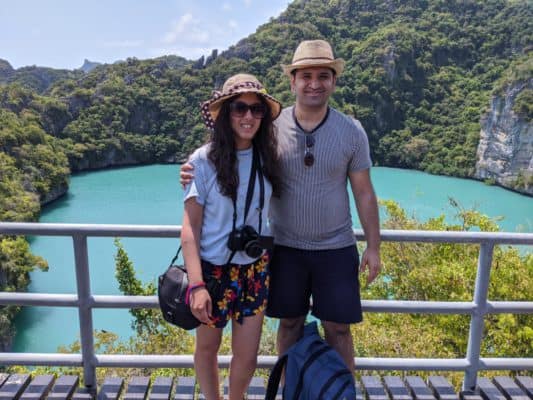 Day 3 in Koh Samui, Thailand
4X4 Safari Tour – Temples, Rocks, Waterfalls, Secret Gardens and coconuts. This was a good tour, we enjoyed it and the tour guides really made an effort in making this trip enjoyable. Riding on top of the car was also super cool.
We flew out the next day to our final destination – Krabi.
3 days in Krabi – Our Adventure town in Thailand
Where we stayed: Centara Anda Dhevi Resort and Spa (Link to Trip Advisor)
Day 1 in Krabi, Thailand
We booked a couple of tours, The Krabi Jungle Tour and the Tree Top Adventure at a Tourist information shop.
In Krabi, we visited the night market – We went as part of a group. Costing 300 Baht from Ao Nang as part of a return trip it wasn't bad.
The night market was ok at best, we were not that impressed, to be honest. Prices were reasonable but there was not much variety in terms of items on sale.
Day 2 in Krabi, Thailand
One of our favorite tours of this whole trip – We'd recommend it for sure. The Hot Springs are good and relaxing, The emerald pool is refreshing.
The 2000+ steps at the tiger cave was probably the most challenging climb we had in our time in Thailand but was totally worth it.
Watch out for the monkeys though. One of them stole ice cream from me. I'm not even joking!!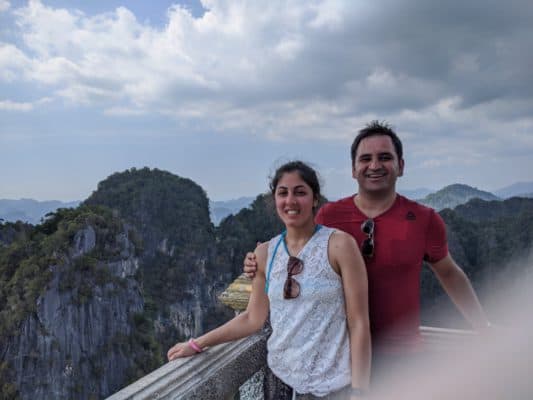 Day 3 in Krabi, Thailand
On our final day we went Zip Lining and climbing in the Tree Top Adventure as part of the Tree which was an awesome experience. We were picked up around 8 am. Dropped off about 2 pm.
We also tried our hands at a Thai Cooking. This was probably one of the most worthwhile classes we did.
And that is our whole trip consolidated!
In Conclusion
We hope that you have found this article useful, and use it as a resource when you are planning your trip to Thailand.
Have we missed something out? If you want any more specific information, please let us know in the comments below.
Here are some of our picks that we hope you will enjoy.