The UK, when compared to the rest of the world is a small country. It covers over 80,000 square miles (209,000 square kilometers). However, it is pretty well set up for internal flights across the country. There are probably more airports operating internal flights in the UK than you may think.
So, what are your options for internal flights in the UK? Here's an overview of the most popular destinations used by passengers in the UK:
Airport
Popular UK Destinations
Flight Time
London Heathrow
(LHR)
Birmingham
Manchester
Edinburgh
Newquay (Cornwall)
Belfast
1 hr
1 hr 5 mins
1 hr 25 mins
1 hr 15 mins
1 hr 20 mins
Birmingham
(BHX)
Edinburgh
Newquay (Cornwall)
1 hr 15 mins
1 hr
Manchester
(MAN)
London
Edinburgh
Newquay (Cornwall)
Belfast
1 hr 5 mins
1 hr 10 mins
1 hr 15 mins
1 hr
Edinburgh
(EDI)
London
Birmingham
Belfast
1 hr 15 mins
1 hr 15 mins
50 minutes
The great thing about the internal flights in the UK and even to Ireland is that the journey time is very short, averaging around an hour wherever you need to get to. Not only that, in general, the overall time from check in to boarding the flight tends to be shorter. Let's look into this further.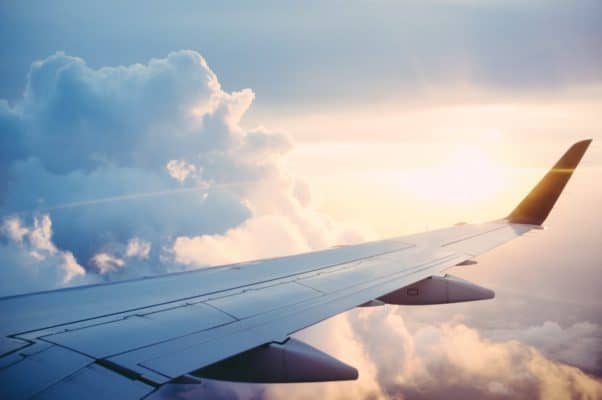 What is a Domestic Flight?
A domestic flight can be defined as a commercial flight where you depart and arrive in the same country.
Those airports that only operate domestic flights can be called domestic airports.
Check-In Times for UK Flights
How early should you arrive?
Arriving early to any airport is always a must, just to account for those unexpected delays. But, for internal flights, you don't need to get there as early as you would for international flights. It's recommended you should arrive at the airport at least 1 and a half hours before your scheduled flight to allow sufficient time to check-in and go through security.
Having said that, if you're only carrying hand luggage, there won't be a need for you to check-in luggage and in that case, we'd recommend getting to the airport about an hour and 15 mins before your flight.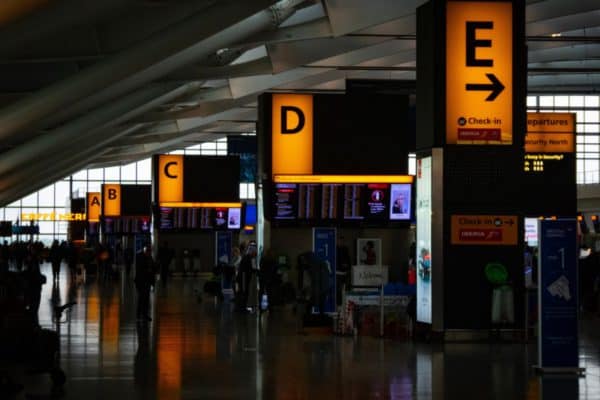 Domestic Flight IDs
Do you need your passport?
The best thing to do here is to check with your with your airline. In general, photographic ID is required on domestic flights. This can include the following:
A valid passport
An expired passport – can be used up to 5 years after expiry (number of expired years depends on the airline)
Valid photographic EU or Swiss national identity card
Valid photographic driving license (provisional or full)
Valid armed forces identity card
Valid police warrant card/badge
Citizen Card
Different airlines will have slightly different requirements of what ID they'll accept. The easiest thing to do is just carry your passport if you have one as you definitely won't be turned away with that.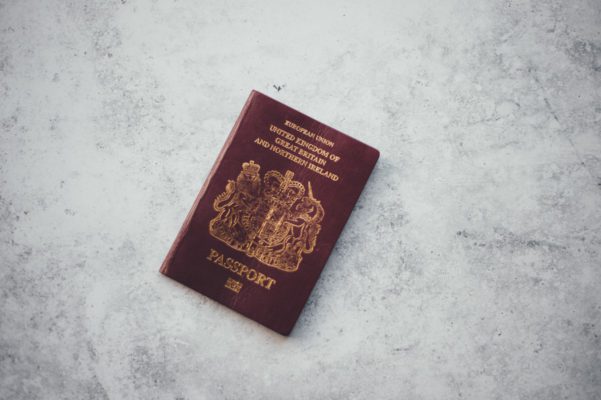 Which passengers need to show ID?
Passengers who are over 16 years old will be required to show photographic ID.
If the passenger is under 16 years old but traveling with an adult, they will not be required to show photographic ID. The adult can vouch for their identity. However, if the passenger is traveling alone and they are under 16 years old, they will be required to show photographic ID.
Hand Luggage – The Rules
If you decide to only carry hand luggage, there are certain rules to follow for the UK of what you can and can't pack in hand luggage.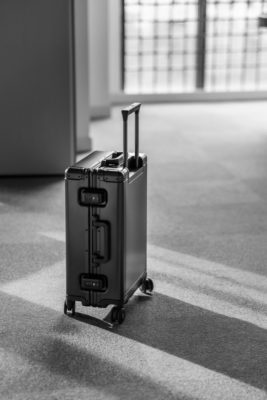 Liquids
One of the main points to consider is the volume of liquid you can take. Take a look below of what is considered acceptable.
containers must hold no more than 100ml
containers must be in a single, transparent, resealable plastic bag, which holds no more than a liter and measures approximately 20cm x 20cm
contents must fit comfortably inside the bag so it can be sealed
the bag must not be knotted or tied at the top
you're limited to 1 plastic bag per person
you must show the bag at the airport security point
In some circumstances, you can take more than 100ml in hand luggage if they are essential for medical or dietary purposes. Also, if you're traveling with a baby and you require baby food, it is acceptable to take more than 100ml. However, this is always worth checking with your airline their specific requirements.
Source: Hand luggage restrictions at UK airports
Other Items
1 lighter allowed on yourself (not your hand luggage)
Musical instruments – check with your airline
Pushchairs, wheelchairs and walking aids are usually allowed but need to go through security first
Corkscrew, knife, large scissors are not allowed in hand luggage
Most electrical devices allowed in hand luggage e.g. mobile phone, laptop, tablet, hair straighteners, iron, electric shaver, and cameras
Sports equipment that is forbidden in hand luggage includes heavy bats, golf clubs, darts, walking poles, firearms, martial arts equipment
In general, work tools are not allowed in hand luggage
Chemicals, toxins, and ammunition are obviously forbidden
For a full detailed breakdown of what items are allowed and forbidden items, check out the gov.uk website for the most up to date information.
Why Fly?
It's quicker!
Well, the obvious answer is the shorter journey time. But how does it really compare to driving or taking the train? Here's a breakdown of the most common journeys in comparison to driving or taking public transport with their approximate journey times.
| | | | |
| --- | --- | --- | --- |
| Journey | Flight Time | Driving Time | Train Time |
| London to Edinburgh | 1 hr 25 mins | 7 hrs | 5 hrs |
| London to Glasgow | 1 hr 15 mins | 7 hrs | 5 hrs |
| London to Manchester | 1 hr 5 mins | 4 hrs | 2 hrs |
| London to Belfast | 1 hr 20 mins | 10 hrs (including a ferry) | 15 hrs (including a ferry) |
| Liverpool to Belfast | 35 mins | 7 hrs (including a ferry) | 10 hrs (including a ferry) |
Cost-Effective
With many budget airlines available, you can get some great deals on internal flights in the UK and even Ireland. I've seen flights as cheap as £5 one way! If you're traveling alone, it can also probably more cost-effective.
Take a look at our summary below of what budget airlines are available at which airport. Click on the links to find out more about which internal flights they cover.
Airline
Airport
Ryanair
Aberdeen, Belfast International, Birmingham, Bournemouth, Bristol, Cardiff, Derry, East Midlands, Edinburgh, Glasgow, Leeds Bradford, Liverpool, London Gatwick, London Luton, London Stansted, Manchester, Newcastle, Cornwall Airport Newquay
Easyjet
Aberdeen, Belfast International, Birmingham, Bristol, Bournemouth, Cardiff, Edinburgh, Glasgow, Inverness, Liverpool, London Stansted, London Gatwick, London Luton, London Southend, Manchester, Newcastle
Southampton
Jet2
Belfast, Birmingham, East Midlands, Edinburgh, Glasgow, Leeds Bradford, London Stansted, Manchester, Newcastle
FlyBe
Aberdeen, Belfast City, Bristol, Cardiff, Dublin, East Midlands, Edinburgh, Glasgow International, Inverness, Ireland West (Knock), Liverpool, London Gatwick, London Heathrow, Humberside, Newcastle, Birmingham, Cork, Exeter, Leeds Bradford, London City, London Southend, Wick John O'Groats, Manchester, Newquay, Southampton, Teesside International
Stress-Free?
Okay, so flying compared to driving or taking public transport has its benefits and disadvantages. Overall, we think it can be less hassle. The journey will probably be more comfortable and you won't be as tired when you get to your destination.
Of course, there can always be the chance of delays with flights, but you're just as likely to get this on the roads and with trains. So, we definitely think that taking an internal flight is a great option.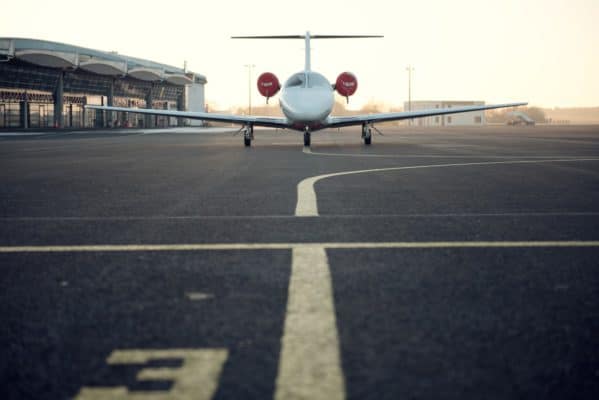 Best Internal Flights
So what do we think about the best internal flights worthy of taking? Here are our top three picks:
London to/from Edinburgh
Flight cost to Scotland tends to be more expensive compared to Northern Ireland, however, still inexpensive. Prices can vary when you book but return starting from under £40 so this flight is definitely worth taking. Compared to driving, you'll definitely be saving money on fuel cost enough for 7 hours of driving, not to mention the tiredness!
If you decide to take the train, you're looking at around 5-6 hours journey and paying a lot more for the tickets easily over £100 for a return ticket. It's a no brainer!
You also have every choice with whichever London airport you want to take. All six London airports offer flights to Edinburgh so this should definitely cut down the time traveling to the airport if you can just go to your nearest one.
London is obviously well-connected, so which airport you fly into it'll be easy to make your onward travel arrangements. Edinburgh also boasts great transport links. In terms of public transport, there are trams, trains, buses, and coaches available connecting you to the city and surrounding areas.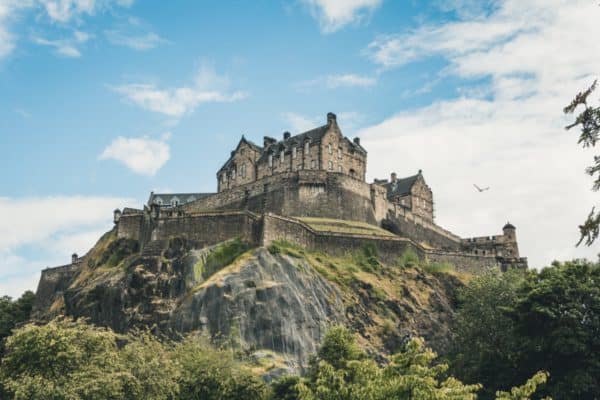 London to/from Manchester
While this is a shorter flight compared to Edinburgh and nearly half the amount of time to drive, we think this is definitely another flight worth taking if you're connecting over to another flight out of the country. It just makes the whole travel experience a lot less hassle. The last thing you want to be doing after a long flight is driving or changing to take a train or coach back up to Manchester from London.
Price-wise, as well, similar to Edinburgh, trains can be pretty expensive. A return trip can easily cost more than £100. However, the train journey is not too bad taking around 2 and a half hours. The thing to weigh up here is the cost of travel with travel time.
You may have a shorter overall travel time with the train as you won't have to faff about getting early to the airport and going through security, but it's likely you'll end up paying more for your ticket.
Manchester is also a well-connected city with trams, trains, coaches, and buses. You can get to wherever you need to go!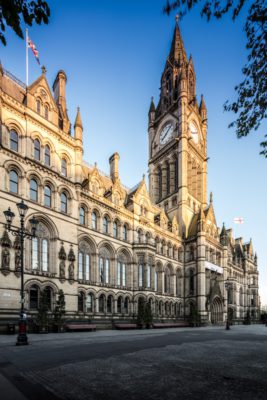 London to/from Belfast
This flight is 100% worth taking. Firstly, the deals you can get with budget airlines is awesome. We've seen tickets for £5 one way! And of course, as this journey involves a ferry crossing if you drive or take the train, it's definitely less hassle to fly.
As we've mentioned before, this journey can take around 10 hours if you want to drive or take the train. It's just not worth it. Flying will only take just over an hour. Even counting the additional time to get to the airport, check-in and go through security, this journey would likely be a lot shorter.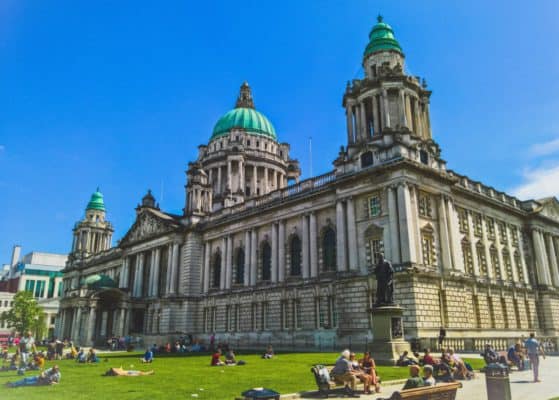 Which other airports in the UK & Ireland provide internal flights?
If you want to know more about any given UK or Ireland airport and what internal flights they provide, check out the summary below. This is only including flights on the mainland and not the surrounding islands around the UK and Ireland.
Region
Airport
Destination
England
East Midlands Airport (EMA)

Aberdeen
Belfast
Dublin
Edinburgh
Glasgow
Inverness
Knock
Shannon
England
London Luton Aiport (LTN)
Dublin
Cork
Knock
Kerry
Edinburgh
Glasgow
Aberdeen
Inverness
Belfast
England
Norwich Airport (NWI)
Aberdeen
Edinburgh
England
London Southend Aiport (SEN)
Newcastle
Edinburgh
Carlisle
Belfast
Aberdeen
Derry
Dublin
Glasgow
London
Newquay
England
London Stansted Airport (STN)
Belfast
Cork
Dublin
Edinburgh
Glasgow
Kerry
Knock
Shannon
England
London Heathrow Aiport (LHR)
Newquay
Manchester
Leeds
Newcastle
Edinburgh
Glasgow
Belfast
Shannon
Cork
Dublin
England
London City Airport (LCY)
Belfast
Dublin
Edinburgh
Exeter
Glasgow
London
Manchester
England
Teeside International Airport (MME)
Aberdeen
Belfast
Cardiff
Dublin
London
Southampton
England
Newcastle International Airport (NCL)
Aberdeen
Belfast
Bristol
Exeter
London
Newquay
Southampton
England
Liverpool John Lennon Airport (LPL)
Belfast
Cork
Derry
Dublin
Knock
Newquay
England
Manchester Airport (MAN)
London
Edinburgh
Newquay
Belfast
England
London Gatwick Airport (LGW)
Newquay
Edinburgh
Glasgow
Inverness
Belfast
Knock
Shannon
Cork
England
Southampton Airport (SOU)
Manchester
Leeds
Glasgow
Newcastle
Dublin
Edinburgh
Belfast
Teeside
England
Exeter Airport (EXT)
Belfast
Dublin
Edinburgh
Glasgow
London Manchester
Newcastle
England
Bournemouth Airport (BOH)
Dublin
England
Carlisle Lake District Airport
Belfast
Dublin
London
England
Cornwall Airport Newquay
London
Aberdeen
Glasgow
Newcastle
Cork
Dublin
London
Manchester
Leeds
Birmingham
Belfast
Edinburgh
England
Bristol Airport (BRS)
Belfast
Newcastle
Knock
Dublin
Aberdeen
Edinburgh
Glasgow
Inverness
England
Birmingham Aiport (BHX)
Aberdeen
Belfast
Cork
Dublin
Edinburgh
Glasgow
Inverness
Newquay
Shannon
England
Humberside Airport
Aberdeen
England
Leeds Bradford International Airport (LBA)
Belfast
Dublin
London
Newquay
Southampton
Wales
Cardiff Airport (CWL)
Teeside
Newcastle
Edinburgh
Glasgow
Belfast
Dublin
Cork
Scotland
Aberdeen International Airport (ABZ)
Belfast
Birmingham
Bristol
Cardiff
Dublin
Teeside
Humberside
Leeds
London
Manchester
Newcastle
Newquay
Norwich
Scotland
Campbeltown Airport (CAL)
Glasgow
Scotland
Inverness Airport (INV)
Belfast
Birmingham
Bristol
Dublin
London
Manchester
Scotland
Dundee Airport (DND)
London
Scotland
Edinburgh Airport (EDI)
Belfast
Birmingham
Bristol
Cardiff
Cork
Derry
Dublin
East Midlands
Exeter
Knock
London
Manchester
Newquay
Norwich
Shannon
Southampton
Scotland
Glasgow International Airport (GLA)
Newquay
Exeter
Cardiff
Bristol
Southampton
London
Birmingham
East Midlands
Belfast
Dublin
Cork
Donegal
Derry
Campbeltown
Scotland
Wick John O'Groat's Airport (WIC)
Aberdeen
Edinburgh
Northern Ireland
Belfast International Airport (BFS)
Birmingham
Bristol
Edinburgh
Glasgow
Liverpool
London
Manchester
Newcastle
Northern Ireland
George Best Belfast City Airport (BHD)
Glasgow
Inverness
Aberdeen
Dundee
Carlisle
Teeside
Leeds
Manchester
Birmingham
East Midlands
London
Southampton
Cardiff
Exeter
Newquay
Northern Ireland
City of Derry Airport (LDY)
London
Manchester
Glasgow
Edinburgh
Liverpool
Ireland
Dublin Airport
Bouremouth
Carlisle
London
Ireland
Cork Airport
Birmingham
Bristol
Cardiff
Edinburgh
Glasgow
Liverpool
London
Manchester
Newquay
Ireland
Shannon Airport
Birmingham
Edinburgh
London
Manchester
Ireland
Ireland West Airport (Knock)
Birmingham
Bristol
East Midlands
Edinburgh
Liverpool
London
Manchester
Ireland
Kerry Airport
Manchester
London
Dublin
Ireland
Donegal Airport
Dublin
Glasgow
Other Airports on the Islands of the UK
So the above table only shows those airports located on the mainland of the UK. However, there are numerous small airports located on the many islands of the coast of the UK as well. Most of these are of the coast of Scotland and also other islands such as Jersey, Guernsey and Isle of Man of the coast of England. For a full list of UK airports including the islands, check out the Wikipedia page.
It's worth noting though, if you're planning on visiting these islands, ensure you plan in advance as scheduled flights tend to be few and far between. This, of course, is dependent on the airport, but definitely worth checking out well in advance.
Top Things to Take Away – The Important Bits
You can arrive at the airport around 1 hour and 30 mins before your scheduled flight for domestic flights.
Check with your airline what counts as valid ID before traveling.
Ensure you don't carry more than 100ml of liquid per container in your hand luggage. If you plan to carry more for medical, dietary needs or because if you need to carry baby food, check with your airline in advance to see what's acceptable.
If you're unsure whether certain items are allowed in hand luggage or checked-in luggage, check the UK gov.uk website prior to packing.
There are many beautiful islands off the coast of mainland UK, and they are serviced by flights.
In summary, we think it's definitely worth checking out if flying internally is a better option for you compared to driving or other forms of public transport. Especially if you're traveling between two destinations that are a few hundred miles away, it may just save you money, time and stress!
We hope you enjoyed our article, feel free to check out some of our other content: