Some things really can only be bought in London when you visit. As well as the memories you will have when visiting one of the oldest and influential cities in the world, make sure that you buy the right souvenirs to remember your experience. There are some things that are very uniquely British, that you really can't get anywhere else. Whether you want to remember the taste of that craft beer, the fish and chips or just want something authentic, we've got you covered.
So what things should you buy when you visit London?
UK Fashion – Brands that are cheaper in London than back home
UK condiments, snacks and biscuits that you are missing out on
Uniquely British – Get some authentic British memorabilia
Gifts from Top London Attractions – For the memories
UK brands are popular all over the world and cheaper in London. So if there are any UK brands that you like, snap them up when you're visiting. UK food and drink are great too so you try all of our classic dishes, then take back some treats home. In London, you can also get some pretty quirky and one of a kind souvenirs, so pick some of them up too. More details below!
Item
Examples
UK Fashion
Paul Smith
Burberry
Superdry
UK Condiments, Snacks and Drinks
English Mustard
Condiments, Snacks, and Biscuits
Twinnings & Whittard Tea
Alcohol
Heinz Baked Beans
Uniquely British
Harry Potter Shop
Original Beatles Memorabilia
Bulbs from Columbia Flower Market
Vintage Clothes Shops
Gifts from Top London Attractions
West End Theater Merchandise
Buckingham Palace
Paddington Bear from Paddington Station
Markets in London
UK Fashion – Brands that are Cheaper in London than Back Home
Major UK brands are all over London. Not only are the flagship stores in London, but there are also loads of outlet stores all over London as well. So it's a great opportunity for you to grab some bargains. Let's go through the main ones.
Top UK Brands including Flagship Stores and Outlets are as follows:
Paul Smith – men's Clothing, man bags, and stripes
Burberry – iconic chequered clothing and trench coats
Superdry – vintage Americana design with British Style
Dr. Martens – known for their rock-solid shoes
Mulberry – beautiful handbags
Lush – handmade cosmetics
1. Paul Smith – Men's clothing, man bags, and stripes
Paul Smith is probably more suited for men, but they do women's clothes too. If you're looking for a fancy blazer, shoes or a man bag, this is the place for you. London is the place to check out their flagship store, and if you're after a bargain, be sure to check out their outlet stores as well.
London flagship: 9 Albemarle Street, Mayfair, London, W1S 4BL. There are also several outlets located across London.
Opening Hours: 10AM – 6PM (Sun-Wed), 10AM – 7PM (Thurs-Mon)
Website | Facebook | Instagram
2. Burberry – Iconic chequered clothing and trench coats
Burberry is an instantly recognizable British Brand. Best known for their trench coats and handbags, again London is the place to check them out. They also have a range of kids' clothes too, which are popular too. Flagship store and outlet store details below.
Flagship Address: 121 Regent Street, London W1B 4TB. There are also several outlets located across London.
Flagship Opening Hours: 10AM – 8PM (Mon-Sat), 11.30AM – 6PM (Sun)Website | Facebook | Instagram
3. Superdry – Vintage Americana design with British Style
Thought Superdry was an American brand? You thought wrong, they are British baby. We see them as one of the mid-range priced brands out there. They sell everything from jeans to hoodies and flip flops, get them in London. Not sure if you'll want to wear the flip flops in London, but hey the option is there.
London flagship: 103-113 Regent St, Mayfair, London W1B 4HL
Opening Hours: 10AM – 8PM (Mon-Sat), 11.30AM – 6PM (Sun)
Website | Facebook | Instagram
4. Dr. Martens – Known for their rock-solid shoes
Dr. Martens iconic leather shoes are recognized by everybody. You've seen builders and celebrities wearing the same boots because they are stylish and sturdy. Grab a pair of boots or other shoes in London.
London flagship: Unit 26-27, Camden Market, London NW1 8AH. There are also several outlets located across London.
Opening Hours: 10AM – 7PM (Sun-Fri), 9AM – 7PM (Sat)
Website | Facebook | Instagram
5. Mulberry – Beautiful handbags
If you're a fan of Mulberry, London is the place to check out their flagship store, where they have their amazing collection on display. Buy the latest designs there or get last years stuff at an outlet store.
London flagship: 100 Regent Street, London W1B 5SR. There are also several outlets located across London.
Opening Hours: 10AM – 8PM (Mon-Sat), 11AM – 6PM (Sun)
Website | Facebook | Instagram
6. Lush – Handmade cosmetics
Lush make cosmetic products that are free from animal testing, 100% vegetarian and generally ethically good. The only problem is the price of their goods. They are a UK brand, and are cheaper here, so if you like them, check them out.
London flagship: 100 Regent Street, London W1B 5SR. There are also several outlets located across London.
Opening Hours: 10AM – 8PM (Mon-Sat), 11AM – 6PM (Sun)
Website | Facebook | Instagram
UK Condiments, Snacks and Biscuits that you are Missing out on
In the UK, there are some local food favorites that you just wouldn't know about unless you lived there or a local tells you about them. Luckily for you, we are locals! Your tastebuds are in for a treat.
The UK has a bit of a love affair with snacks and biscuits, and so do we. There are some snacks and condiments that you just can't pick up anywhere else.
English Mustard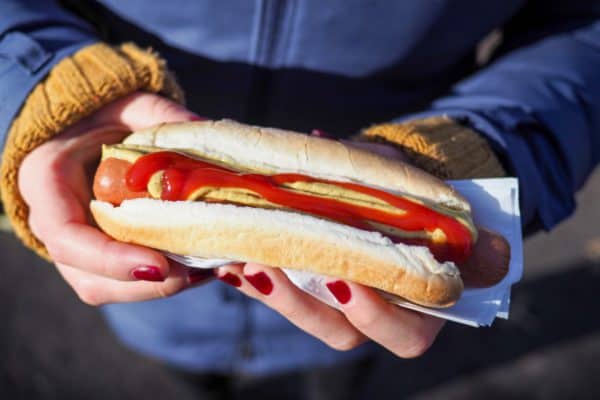 It is the king of mustards in our opinion. If you're looking for an insane kick to your burger or hotdog, this is for you, we love it.
Try and get locally sourced English Mustard from one of Londons markets such as Islington or Queens Park. Here's a link to the official London Farmers Market, where you can find the closest market to you. They have a pretty cool online tool to help you to find your nearest one.
Alternatively, if you are short on time, you can pick up Colemans Mustard from any Supermarket e.g Tescos or Sainsburys, which is great.

Heinz Baked Beans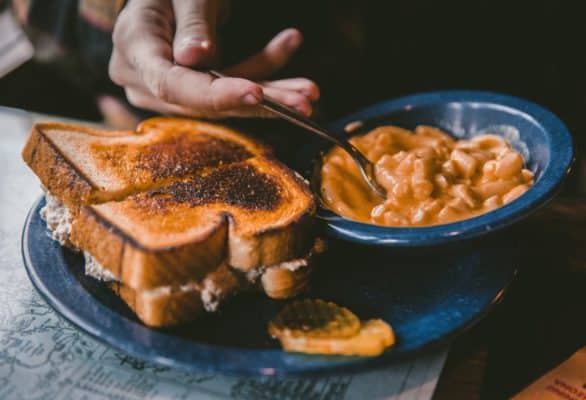 A British favorite, we guarantee you you will not be able to get these beans anywhere else that tastes like they do in the UK.
The beans will probably be served as part of breakfast if you're staying in a hotel. If you like them, buy a couple of tins for your journey home. You will not regret it.
Mcvities Chocolate Digestives & Jaffa Cakes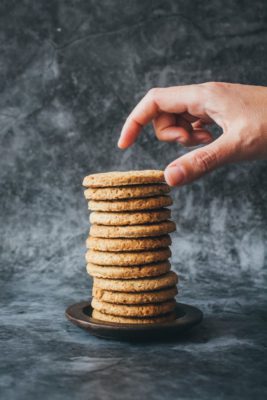 Mcvities Chocolate Digestives are a family favorite biscuit in the UK. Try dipping them in your tea letting the chocolate just ooze into your mouth. They are just scrumptious!
Jaffa Cakes are legendary – classed as a cake but bought in a pack like biscuits, they are certainly special. With a zesty orange center, we would recommend them for sure.
Walkers Prawn Cocktail and Worcester Sauce Crisps
Ok so these crisps are basically the same as Lays, and these flavors should not work, but they do. Don't knock them until you try them.

Tea and Coffee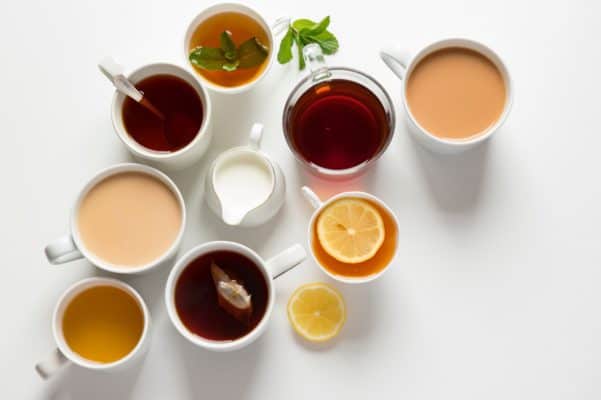 Britain is known for its tea, so as well as going for an afternoon tea when you visit (Check out our article here on High tea vs Low Tea for recommendations), make sure you take some home with you as well.
Twinings Tea is probably the UK's most famous tea. You can visit the Twinings Tea shop, which is actually the UKs oldest tea shop. It opened in 1706!
Here's a link to the official twinings website here, if you want to read a bit more about it.
Whittard is another London based tea company in the UK. Whilst their tea is good, their hot chocolate is even better. It's worth taking back home with you and a great way to show off to friends.
Here's a link to Whittards' official website to see more on what they have on offer.
Tea is a very British thing and it makes for a great souvenir. Of course, you can buy very nicely packaged loose tea in many stores, but we would actually recommend a Coffee shop in Soho called Algerian coffee stores which is essentially a pick 'n' mix of getting coffee beans and loose leaf tea.
They have over 80 types of coffee and over 120 teas. They have been around since 1887, so they know what they are talking about. Whilst you're in there make sure that you pick up an espresso. It's probably the only place you can buy one for £1.

Alcohol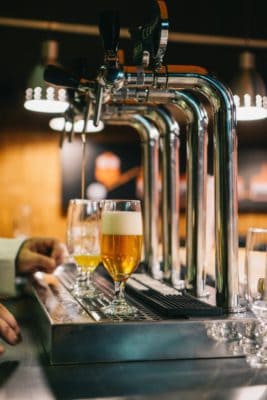 Beer in England is called lager. Honestly, Australian and American brands are quite popular but if you are looking for something local, the two most well known real ale London breweries are Fullers (London Pride) and Youngs (Special is much tastier
than the Youngs ordinary).
If you're thinking of buying something a little stronger we would recommend Harrogate Rum which is distilled with spring water. It's pretty strong too, 42% alcohol. Despite that it's still quite smooth.
There is, of course, London Dry Gin, however, unlike the name suggests a lot of it isn't actually distilled in the capital. The 'London Dry' element refers to the distillery process as opposed to where it's from. But hey, if you like it, you can still get it.
Gin, however, is a big part of British culture. Visit the distillery on Portabello Road. They distill the typical dry gin but have other flavors too. We would recommend trying one called Yorkshire Cup. This is a Gin distilled with Yorkshire Tea. It's pretty special.
Uniquely British – Souvenirs you can Only get in London
There are so many unique and really cool items that you can buy in London. Whatever you do, please don't just go into the tourist shops and buy the standard gifts.
London is one of the oldest and influential cities in the world. With all its history let's look at some cool souvenirs that you can buy in London.
Buy Some original Beatles memorabilia
The London Beatles Store (linked to the official Beatles Store website), located near Baker Street is where you can buy some special items. From original Beatles programmes, postcards as well as other original quirky tour memorabilia like a pack of four aces with the band members on them. You'd be buying history, literally!
Buy a wand at the Harry Potter Shop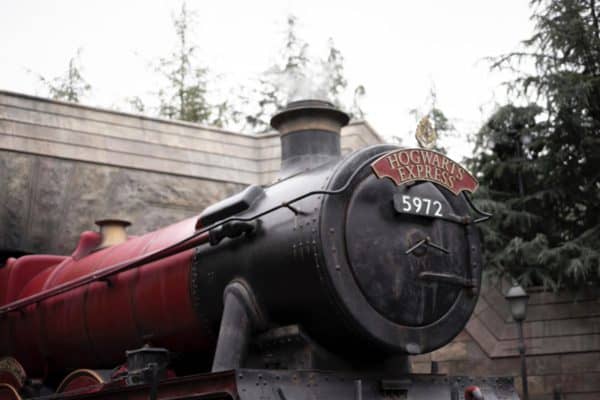 London is also home to the fictional train stop (9 and 3/4) at Kings Cross Station in the Harry Potter books. It's totally worth checking out. You actually go through the platform to see the Hogwarts Express.
You can buy everything from school uniforms to wands to sleepwear and keyrings. Definitely cooler than your average souvenir.
Here's a link to the official Harry Potter Shop for more information.
If you really love the Harry Potter movies you can also visit the Warner Brothers Studios.
Visit the We Built this City Souvenir store
This is a store on Carnaby Street that is literally looking to revolutionize London Souvenirs. Showcasing souvenirs and art created by London's gated community. So if you are looking to get something different but authentic this is the place to get it.
Buy something from Harrods – Londons most prestigious store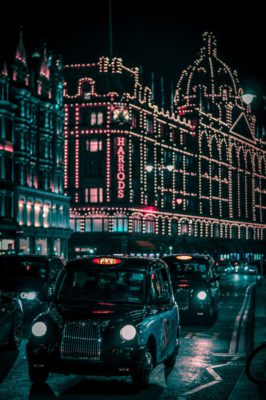 Harrods is one of the UK's most expensive and prestigious stores in London. Whilst it is very expensive, there are some things that you can afford. I remember buying my mum a flannel (a small towel) from there in my university days. Ah, the memories, anyway, here are our recommendations (FYI we have purposely chosen gifts under £20):
Harrods Annual Teddy Bear (will be a unique gift for the year that you visited)
Harrods Journal (you'll know where you got it from and it'll have your memories)
Harrods magnet (something different to the standard London magnet)
If you have the money, obviously there are lots to buy in Harrods. We love the animal room. Huge stuffed teddy bears and giraffes as well as every other animal in any zoo you have ever been to. Just be prepared to re-mortgage your house to pay for all of it (that was a joke by the way). It's pricey, you get the gist.
To find out more about Harrods souvenirs here's a link for more information in relation to the best Harrods souvenirs, by globalblue.com.
A football scarf from a London football club
The UK's most-followed and national sport is football. There are 13 football clubs across London but the following are perhaps the most famous and widely known:
Chelsea Football Club
Arsenal Football Club
Tottenham Hotspur Football Club
West Ham United Football Club
If you do manage to watch a football game when you visit, a scarf is a great item to buy if you're not looking to spend too much. You can buy a football shirt as well, but you may only want to get one if you're a super fan.
Buy some bulbs from Columbia Flower Market to plant in your garden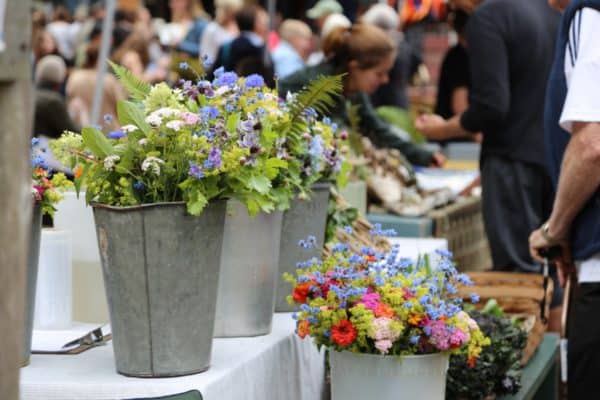 We love the idea of taking some bulbs of British plants, taking them home to your country and planting them.
Every Sunday Columbia Street is transformed into an unbelievable flower market. Everything from banana trees to daffodils (local English plant) is up for grabs. So even if you are going home to an exotic climate, you can still find something to suit you.
The flower market is open on a Sunday from 8 am to 3 pm, so make sure you get there on time.
Gifts from Top London Attractions
Get souvenirs that mean something to you. London is a sea of theaters, museums, parks, shopping malls, and monuments. Wherever you're heading to, there's plenty of goodies you can pick up. Here are our favorites:
West End Theater – Merchandise
If you're going to go see a West End musical, see our article on how to enjoy London like a local for ways to book tickets, you might as well get some merchandise related to the show that you're going to see.
There are lot's of souvenir shops all around Covent Garden and Leicester Square.
Most theaters have a stall before entering the theater that can be accessed by non-ticket holders, although it might not open until shortly before a performance.
Or you could go for an experience and a souvenir. There's a cafe called The Theatre Cafe (linked to their official website) based in the heart of the West End that you should check out. With performances for West End Stars and an opportunity for cake, what's not to like!
The Theatre Cafe Address: 99 St. Martin's Lane, London WC2N 4AZ. |Open Daily from 9:30 am to 10:00 pm (10:00 am to 7:30 pm on Sundays) View on Google Map
You can, of course, buy theatre merchandise online especially for the bigger shows like Hamilton via the Hamiltonwestendshop.com or the Lion King via ShopDisney.com. But if you're looking for a souvenir with some sentimental value, buy it there and then.
Buckingham Palace Merchandise- Remember when you visited the Queen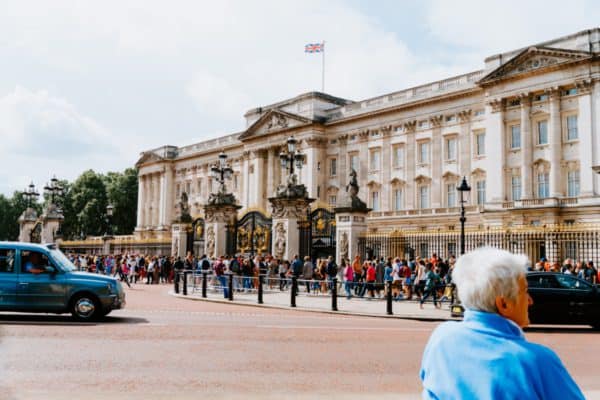 Let's face it, a visit to London would not be complete without a visit to the palace, even if you just stand outside. Whether or not you choose to do a tour of the palace, you might as well get a souvenir from The Queens Gallery Shop (linked to the official website. You can buy everything from jam to a Victorian Tea Set.
The Queens Gallery Address: The Queen's Gallery Shop, Buckingham Palace Road, London, United Kingdom, SW1A 1AA |Open Daily from 9:30 am to 5:30 pm. View on Google Map
London Museums – Natural History and Science Museum Merch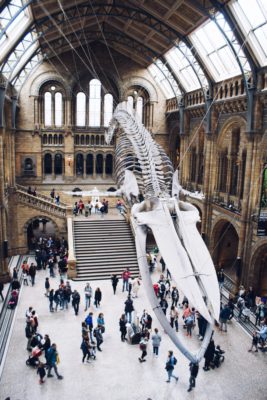 Many museums in London are free, interactive and worth a visit for anyone visiting the capital. The gift shops are great too. From replica space rocket bags to dinosaur pencil cases, there's lots of useful memorabilia.
Paddington Bear – From Paddington Station
You might have to go to Paddington Station anyway when traveling around London, and if you do check out Platform 1. That's where you'll find the Bronze statue of Paddington Bear. If you're a fan, you'll know that Platform 1 is the location of Paddington's adventures. Take a photo and have your own souvenir right there or wander into the shop for a keyring, mug or bear souvenir!
Markets in London – Buy Something Different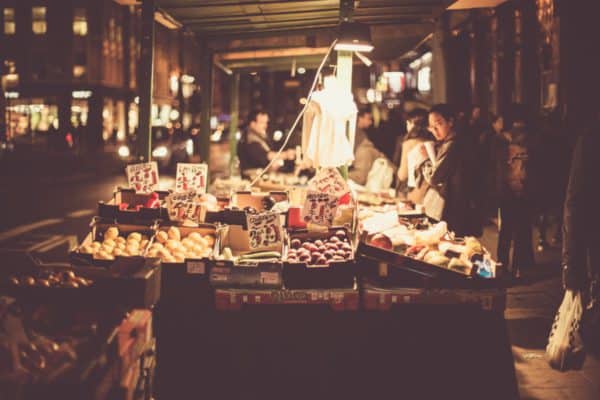 London markets are iconic. You can get some great locally sourced foods and at a reasonable price but also you can bag some really unique items. Markets tend to attract street performers around these areas too which is always fun. If you're interested in antiques or one of a kind art, markets are good for that kind of stuff as well.
Spital Fields Market & Brick Lane Market
We've grouped these together because they are next to each other. Spital Fields Market is one of Londons oldest markets, famous for its local produce. Now, it's relatively commercialized but a great place to buy unique items like leather bags, hats and things like that.
Brick Lane Market is a bit more authentic. As well as vintage clothing stalls you'll find quite a few independent restaurants so it's worth taking a wander down for lunch too! If you're looking for a hidden gem, this is the place to find it.
Camden Market
Camden Market is one of London's most popular markets at the moment with tourists and locals. It's a cluster of smaller markets making one massive market. You'll find everything from high-fashion to homemade cakes and scones. It's a great place to wander around.
Portobello Road Market
This market is actually officially the biggest market in the world. So it goes without saying that you have to go. Based in Notting Hill, this is the place to go if you want to buy antiques, vintage clothing or collectibles in general. You'll be spoilt for choice!
Greenwich Market
Greenwich Park is definitely worth a visit and if you're in the area, you might as well check out Greenwich Market as well. Open from Wednesday to Sunday most weeks it's a great place to get some vintage crockery. So if you're looking for that tea set, this is the place to get it!
Covent Garden Market
Covent Garden Market is a people magnet, it's always busy but for good reason. Again it's a great place to get food, cakes, tea, and antiques. It's also very close to the West End, so if you have a show that you're going to watch it's a great place to check out beforehand.
Alternative Places to Buy Vintage Clothes in London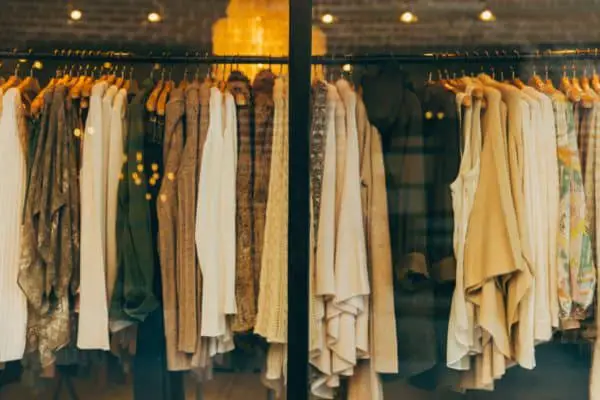 London is great for vintage shopping. Shoreditch is probably the best area to go to do some vintage shopping, so if you're not keen or don't have the time to check out all of the markets, this is the place to go.
Recommended Stores:
Beyond Retro – Started as a stall but also have their own clothing line made you recycled materials and reclaimed fabrics.
Atika – This is the largest vintage shop in all of Europe. If you are looking for designer labels this is the place to go.
Absolute Vintage – Starting off as a Portabello Market Vintage Stall, they now have a store. If you are looking for vintage shoes then this is the place to go.
So what Souvenirs Would we Buy in London?
Well, there are obviously alot of options here, we wouldn't buy everything if we were visiting, so if we had to pick our favourites,this is what we'd go for:
A Burberry trench coat – They're cool stylish and very expensive abroad.
English Mustard & Mcvities Chocolate Digestives as snacks to take home.
Bulbs from Columbia Market. Taking a plant for your garden at home is just a great idea.
A Victorian Tea set most likely from Portabello Market – get something antique at a discount
A Gold Bar of chocolate from Harrods – just to say we bought something where the Queen buys things.
Some vintage shoes from Atika.
In Conclusion
We hope we've highlighted what London has to offer in terms of things you can buy. It's a city that celebrates it's history but is also very quirky in the form of its markets and vintage goods available too.
Also, be sure to try the UK's snacks and biscuits. If like us, you trying the local supermarket snacks and compare them to your own, you can use our recommendations to help you to decide whether the UK has great snacks or not.
Above all else, we think it's important to buy useful souvenirs rather than items you will ultimately throw away. Quality, not quantity. What's quality? Well, that's up to you.
We hope you enjoyed reading this article. If you want to check out some of our other content on London take a look at some of our links below.